Lead Distribution IVR Phone Systems Simplified
For many new LeadExec customers, having an IVR system is a tempting marketing venture, but not everyone is entirely comfortable with this technology.
For many new customers to ClickPoint Software's lead distribution platform, LeadExec, having an IVR system is a tempting marketing venture, but not everyone is entirely comfortable with this technology. For this reason, I would like to take the time to explain the benefits and ease of using an Interactive Voice Response system, so that you can determine whether or not it would be a better way to attract more leads to your business. In a study performed by Baylor University, it was found that, next to referrals, IVR lead capture was the most productive form of lead generation (http://www.baylor.edu/business/kellercenter/index.php?id=55741).
Having a phone number up on your lead generating website is a great way to turn a would-be passerby on your website into a real live lead that can be routed to an appropriate lead buyer within your LeadExec account.
Upgrading a phone network is essential if you want your business to grow without impediments. If you have a business enterprise in anbusiness phone solution Sydney
People often prefer to call in and talk to a live person vs. filling out a form and hoping someone gets back to them in time. With LeadExec, setting up your IVR system is quick and painless with our free initial consultation to help organize your call flow. Add to that our real-time reporting and our call recording/downloading capability, and you've got a complete system that can handle any IVR campaign.

Most people who are new to LeadExec worry about there being limitations present in an IVR system that are not present in standard web forms you'd use to collect lead data from a website. The fact of the matter is that our IVR system is very customizable and can fit the needs that any business might have. We start with a consultation to find out exactly what kind of information you are looking to capture from the caller and how that caller will be routed to the correct lead buyer (Client). We require a call flow diagram to help us build out your complete system and have voice prompts professionally recorded (free of charge). Below is an example of what a call flow diagram looks like in spread sheet format: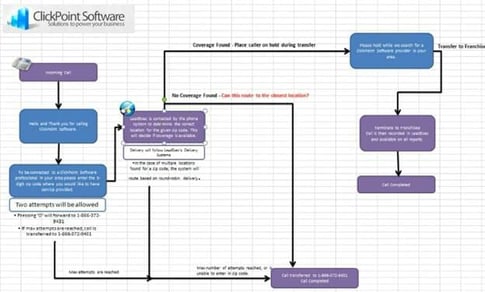 With a diagram like the one above, we can build out your call routing IVR script in as little as 2 days; that estimate includes all of the voice prompt recordings completed by our professional voice over service. We also have the ability to capture reverse 4-11 information on the caller to grab their address information and pass it along to your lead buyers as well.
Some of the benefits of building your IVR system in LeadExec include our robust real-time monitoring and reporting along with the ability for your clients to listen to the call recordings after the call has been completed. LeadExec offers an array of reports from 3 perspectives:
1. Vendor side
2. LeadExec user side
3. Client side
Your Lead Sources can view and generate reports on the leads they've sent to your system from the convenience of their very own personalized vendor portal. As a LeadExec user, you have the ability to view a much wider range of reports on calls that have passed through your system. Some reports worth mentioning are the Call Distribution Report, the Call Revenue Report, and the Call Detail Report.
Below is an example of the Call Received Breakdown Report found in LeadExec: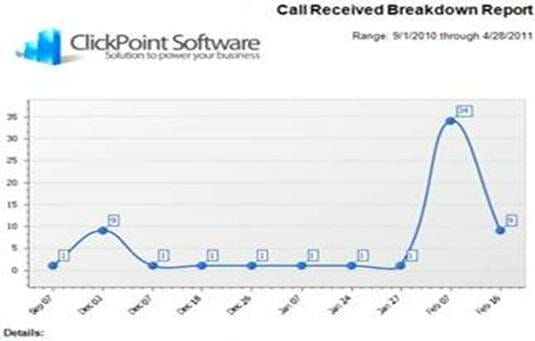 Not only can you monitor and listen to calls within LeadExec, but now you also have the ability to offer the call recordings to your clients through their very own customizable client portal. From the client portal, your lead buyers can log in and view leads they've received whether or not their leads were sent to them via email, http post, xml post, or phone call. If the lead happened to come to your client in the form of a phone call through the IVR system, that call will be recorded and available for your client to listen to at any time.
Below is an example of a recorded call being played back:

Armed with these tools, you will be able to handle a complete robust IVR system. You will be able to give your clients the highest quality phone based leads, along with the reporting to keep it all organized. When you use this system, you can be confident that your clients will receive the best possible quality and service when they buy leads from you.