What is Lead Management? How Lead Management Software Works
Lead management software is a crucial part of a successful business. It tracks, nurtures, and converts leads, helping businesses to grow and thrive.
Lead management, what is it, and how does it help my business?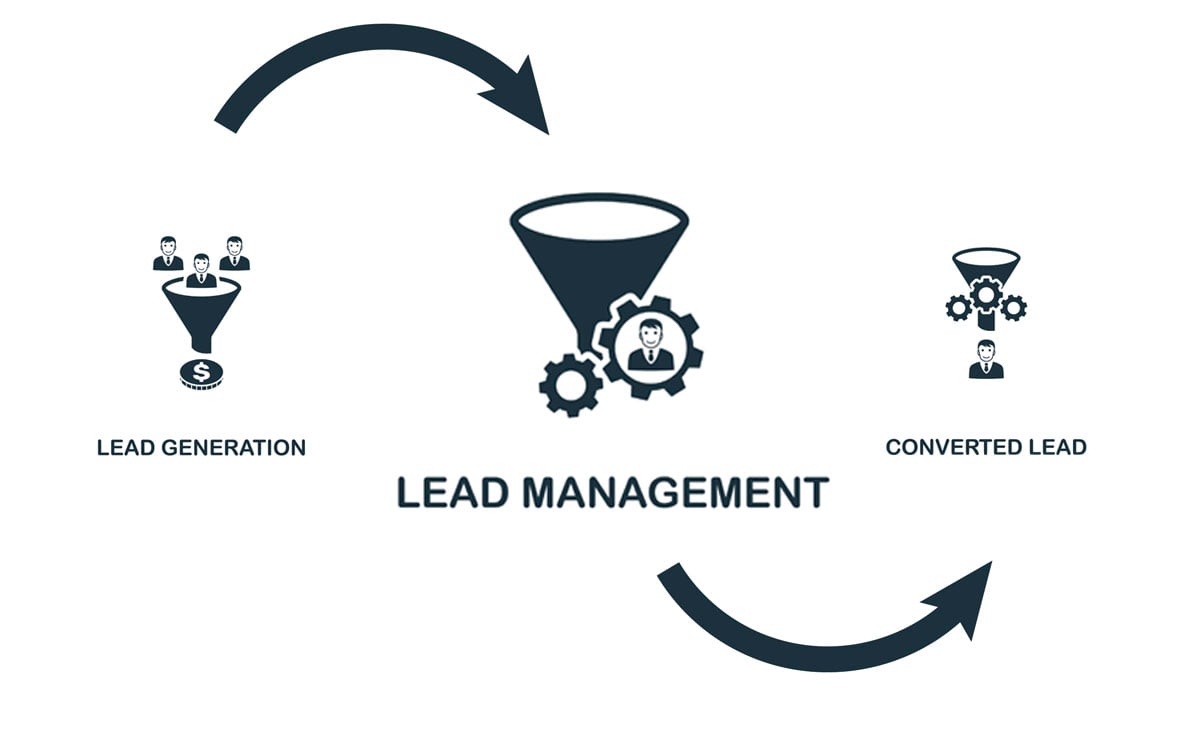 Lead management is the process of handling leads as they move through the sales funnel, from lead acquisition to sales qualified to customer conversion.
This sounds pretty straightforward, but each stage of the buyer's journey requires a lot of work from the marketing and sales team. This is why lead management sales automation software can save a sales-based business a lot of time and money. Companies without a proper system for managing their lead flow not only struggle to contact leads in a timely fashion but have more difficulty accurately qualifying those leads.
Lead management software creates a framework and method for your sales process. This benefits marketing managers, sales managers, and sales agents by eliminating time-consuming administrative tasks and mundane sales tasks, allowing them to focus on marketing strategy and optimizing conversions.
As a sales automation platform, lead management software eliminates most of the manual tasks that bog down sales teams. Intelligent lead routing, lead scoring, and automated lead prioritization all help to serve the best leads to the best agents. This dramatically improves speed-to-lead and increases contact rates.
Adding lead management software to your marketing tech stack allows you to capture leads and nurture them with unique and personalized messaging. It allows you to engage meaningfully with the most qualified leads, increases your contact rate, and helps you focus on the leads that are most likely to convert.
Better leads, better contact rates, the ability to track all touch-points, and a more efficient process significantly improve the volume and value of your sales pipeline.
Lead management software moves leads through the sales funnel, from lead to qualified lead, to prospect, to conversion. The stages of this process are:
Effective lead management starts with generating leads.
Once leads are generated, they need to be organized and tracked. This is done using lead management software, which allows businesses to store and manage their leads in one central location.
Lead Capture
The first stage in lead management is capturing the leads. That is, getting lead data into the lead management system.
Demand generation creates awareness and interest, building an audience for lead-generation campaigns.
Lead generation strategies target potential customers through social media, email marketing, landing pages, chatbots, paid ads, and inbound calls through IVR systems.
These lead gen campaigns then send leads to the lead management system.
Alternatively, purchased leads can come from a lead distribution system used by a lead provider or seller.
Verify and Qualify Leads
The best lead management software has filters in place to check and verify that leads are legitimate. This means that prospects have given consent to be contacted, are not system duplicates, and have real phone numbers, addresses, and other information.
It should also allow users to set criteria for sales qualification. In other words, it should allow you to define what's required by prospects to be able to purchase your product or service.
Finally, leads should be scored so that the most qualified leads can take priority. Once scored, those leads are assigned to sales reps.

Assign Leads
Lead assignment, or lead routing, as mentioned above, is based on priority rules.
There are a number of methods of routing leads to their assigned agents. These methods will vary by organization, sales team, and other factors.
A lead routing process could be as simple as assigning leads evenly in order to each member of a sales team. This process is commonly referred to as "round robin" and gives equal opportunity to every salesperson.
"A recent study found that companies utilizing at least one automated distribution method had an 87% higher conversion rate than those that manually distributed leads. What's even more impressive, the same study found that using multiple automated distribution methods increased conversions by up to 107%." - John-Henry Scherck via DocSend
"Shotgun" is an automation feature that sends a lead to a pool of sales agents, and the first available agent gets the lead. In the case of live call routing, this means that the first available agent answers.
"Top performer" assignment, unsurprisingly, sends leads to sales reps based on their performance. So leads will go to the salesperson most likely to close deals, based on availability.
Leads can also be routed based on the salesperson's expertise or regional territory.
Nurture Leads
Lead nurturing is the process of building a relationship through trust and familiarity until a prospect is ready to buy. Not all leads are sales-ready when they arrive. Leads can express interest without being ready to buy, either because they are still in the discovery stage or because they aren't currently sales qualified.
Lead nurturing strategies are executed through personalized email campaigns, real-time text messaging, and social networks.
As leads move through the lead nurturing process, activities such as email opens can trigger upgrade events that contribute to lead scores.
Lead management software bridges the gap between marketing and sales by allowing nurture campaigns using text and email templates to be customized by sales reps. This simplifies the process while also allowing leads in nurture campaigns to dovetail into sales engagement.

Sales Engagement
A valuable feature of lead management software is how well it performs as a sales engagement or sales automation tool.
Once leads are nurtured and ready to make a purchase decision, it's time for sales engagement. This includes all of the preparatory sales activity. Guiding leads through the sales process, answering any questions they may have, and providing them with the information they need to make an informed decision.
Creating a sales process that is customer-centric requires a sales strategy that emphasizes efficient engagement with leads. Sales automation saves time by taking the manual tasks out of your sales operation. This helps companies reach their sales goals by allowing salespeople to focus on closing deals.
Sales engagement activities include calling, emailing, and texting prospects. Using software like ClickPoint LeadManager as a sales engagement platform allows users to engage with potential customers through all contact methods from a single software platform.
Efficient sales engagement increases contact and close rates by moving leads through the process more efficiently. Multiple touch points and automations mean that sales agents reach prospects faster with less work, increasing the amount of reached contacts in a given time period. A higher number of contacts equates to a higher number of sales.
Sales Reports
Sales reports are the final stage of lead management.
To further improve sales and ROI on leads, sales reports are essential. Sales reporting not only gives sales metrics but gives insights into how individual agents are performing and how well a company's sales process works. This allows sales teams to analyze and improve their process at regular intervals.
Sales reports can also help to track marketing campaigns and determine which marketing efforts are driving the most conversions.
The data visibility that is possible with lead management software makes every stage of the process more efficient, from marketing through the close of a sale.
In conclusion, effective lead management is essential for businesses of all sizes. It involves generating leads, lead tracking, nurturing, and conversion, and it requires a strategic approach and the right tools and resources. By investing in lead management, businesses can grow and thrive and build strong, long-term relationships with their customers.
Lead management software is a critical tool in your marketing technology stack.