How To Create a Winning Lead Prioritization Strategy for Home Services
Home Services companies need to think about how the modern consumer has changed. In a growing market, new strategies are critical to future growth.
Consumer habits are changing rapidly. Many tried-and-true sales and marketing tactics are now outdated. To stay on top in the growing home services market, companies need to adapt. Customer reviews, communication channels, speed of contact and a strong lead prioritization strategy are all critical to evolving with current buying trends.
Occasionally, I like to watch an old 80's movie. I can relive my childhood – a time where things seemed simpler – by watching some of my favorite characters like Chevy Chase, John Candy, or Steve Martin. I'm sure most people have similar rituals, as nostalgia is a universal comfort.

Every business owner can think back to when things were more straightforward than today. This being said, while reminiscing about the good old days is usually harmless, it can be deadly to one's home services business. One must be able to pivot and meet the demands of their evolving prospects.
Many companies fall into the trap of choosing comfort over change from time to time. While the same lessons, solutions, and tools that worked ten years ago are comfortable, they may not remain applicable.
Home services companies need to think about how the modern consumer has changed the game. Technology has made past sales and marketing strategies less effective regarding new consumer behavior models. New techniques are necessary.
Growth in the Home Services Vertical
Consider the global home services market, expected to grow 18.91% per year from 2019 through 2026. Note also that despite home services companies having faced recent difficulties, the industry has since rebounded (Source: Verified Market Research). The implications of this growth are favorable.
Changing Consumer Behavior is Driving Technology, Sales & Marketing Strategies
The modern client is tech-savvy: they now have access to consumer review databases such as Home Advisor, Yelp, and more. They have become accustomed to finding a home service, remodel, or maintenance provider using applications that allow them to research consumer experience.
Consider these statistics:
Over 55% of consumers run an online search in most home services verticals to scan reviews before scheduling an appointment. (Source:

KPMG

)

Consumers read an average of 10 online reviews before feeling able to trust a local business. Many consumers will not reach out to a home services provider until they have vetted their reviews. (Source:

BrightLocal

)

A Facebook-commissioned Nielsen study of global Facebook data found that 1 billion people use Messenger each month. The same study also found that 56% of those surveyed would prefer to message a company than call customer service or sales. (Source:

Facebook

)
As a business owner, you want to be armed with the right methods to levy these circumstances in your favor, allowing you to take advantage of the expanding market.
What Do These Statistics Tell Us?
First. Your business must maintain a stellar reputation online. One way to go about this is to build customer review requests into your post-sale process. You might also incentivize your sales team in return for positive customer reviews. The more positive reviews you have, the better.
Second. Some consumers will prefer communicating with you via chat, some by phone, and some by text. Your sales team should have every communication method available for use.
Third. Be ready to respond quickly to consumers when they show interest in your services. With an increasing demand for home services and a growing consumer trend to avoid phone calls until they are ready to buy, the speed with which your team reaches out to leads has never been more critical.
Statistics from a Drift survey of nearly 400 customers found that if leads are not contacted in under five minutes, a business is ten times less likely to reach a prospect.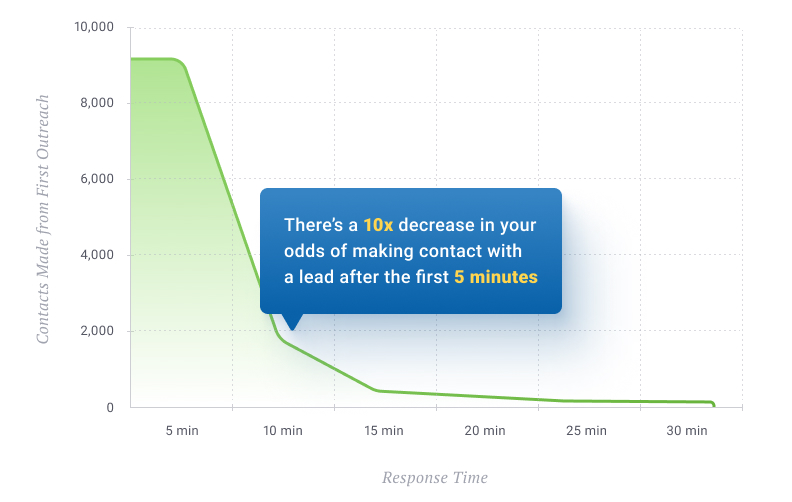 (Source: Drift Customer Survey).
We can see that consumers decide which provider to work with based on their research. With this and the aforementioned statistics in mind, a crucial step in your sales process is to prioritize ease of communication. Ensure that your salespeople are able to assist a prospect that is ready to have a conversation.
Fourth. Internet lead prioritization rules also become critical to ensure prospects route to a friendly team member who can answer questions, listen to them, and offer a solution to their problem.
See: Getting Started with Lead Communication Cadences
By adapting to current best practices and creating a smart lead prioritization strategy, you'll be able to grow your home services business with the expanding market and stay ahead of the curve.
Next Up – Understand Lead Penetration and Its Relation to Staff and Lead Prioritization Rules