What is IVR? 4 Ways to Use IVR for Lead Generation
IVR allows lead providers to capture the most valuable sales leads, qualify them and forward them in real-time to sales teams.


What is IVR?
Interactive Voice Response (IVR) is an automated responsive phone technology. It allows callers to access information via pre-recorded messages without speaking to a live agent.
It can also gather information through voice prompts via touch-tone (DTMF) or speech recognition. It then performs actions based on the answers to those prompts.
IVR can provide further information to the caller, gather information from the caller, or route the caller to a live agent.
IVR technology traffics calls during high-call-volume periods, increases customer satisfaction, and reduces call center burden. This allows for greater call center efficiency.
Incoming calls are received by the IVR software. An automated answering system prompts callers to choose menu options via touch-tone or speech recognition. Based on the caller's menu selections, they are routed to the appropriate call center agent.
Here's how a simple IVR works:
A call comes in, and the caller hears a recorded welcome greeting.
The IVR system triggers the phone menu prompt.
The caller responds to the IVR prompts either by using the telephone keypad or by voice command.
As the caller responds to the menu prompts, they either find a resolution without speaking to an agent or the IVR triggers routing. In that case, the IVR system identifies the appropriate agent to assist the caller and routes the call appropriately.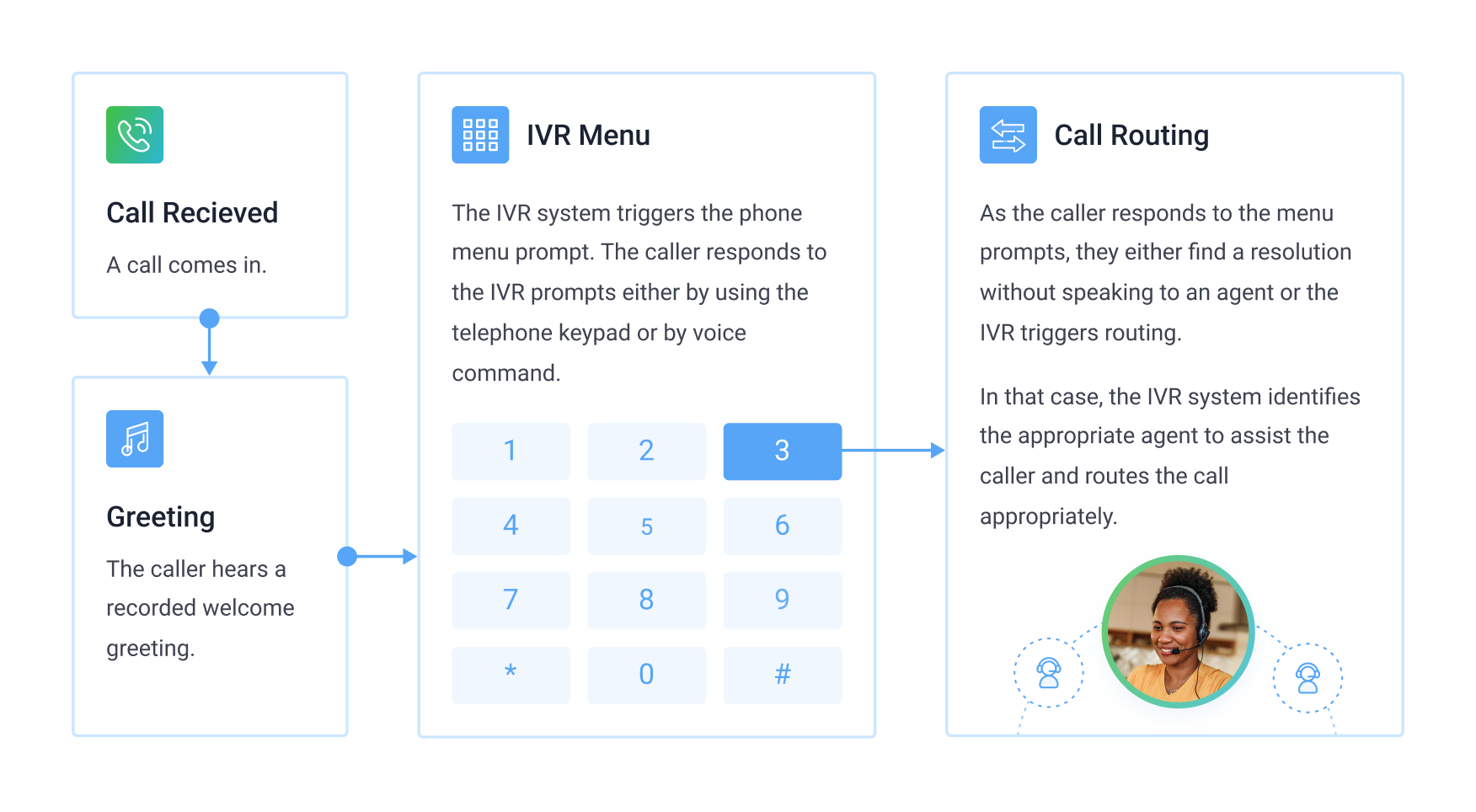 An IVR system is the first point of contact for inbound calls. It helps to manage high call volume. It's an opportunity to create a good impression and provide callers with direct answers. It's also a great way to capture inbound leads.
How can IVR help improve my lead generation?
Everyone has experienced IVR in the context of customer service. You may have used it to complain about your internet service or check your bank account balance. It might be surprising that IVR solutions are a great way to capture leads. It reduces hold time, routes calls to appropriate parties and provides support agents with important information.
That same functionality makes it a valuable tool for inbound lead capture. Instead of providing important information to support reps, IVR lead capture sends qualifying information to your sales team.
A study by Baylor University found that second to referrals, IVR lead capture was the most effective form of lead generation.
Inbound calls have tremendous value. They have a practical contact rate of 100%, and they express not only intent but motivation. IVR adds even more value by capturing qualifying data and routing them based on that data. This means that leads properly generated through an IVR phone system have an extremely high conversion rate.
Dedicated phone numbers on lead-gen landing pages, social media, and search ads turn visitors into real, live leads. Those leads seamlessly route appropriate branches or buyers.
Top lead-gen companies usually have an IVR system in place. However, some companies fear that they are too complex or don't understand how effective they are at generating high-quality leads.
IVR was once cumbersome, expensive, and had extensive hardware requirements. However, with the advent of cloud computing, IVR systems have become easy to implement and more powerful than they once were.
How can IVR fit into your lead gen program?
As one of the best means of generating viable leads, it's foolish to leave IVR out of your lead gen program.
Here are four ways that IVR benefits your lead generation:
1. Intelligent Lead Routing
If you use a call center in your inbound marketing program, you should be using IVR. IVR systems categorize leads based on call-based data (such as area codes) or customer selection of menu options.
IVR software routes incoming calls to the appropriate contact centers based on data such as area codes or caller responses. This lead routing process sends calls to local branches for larger companies or to regional lead buyers for lead sellers.
2. Sales Prep
Unlike cold call engagement, IVR calls can provide lead data to sales reps. Leads have already shown intent and motivation, most will already be sales-qualified leads, and additional data only make the salesperson's job that much easier.
Customizing the prompts to provide the most valuable sales data further increases successful conversions. In lead distribution software, this data is captured in real-time and instantly available to the sales rep.
3. Lead Filtering and Qualification
Lead filtering and lead qualification are critical to an efficient lead generation program. Using smart IVR technology in a lead distribution system such as LeadExec can automate lead filtering and qualification.
Mis-dials and unqualified callers disconnect based on intro messaging or automatically route to general numbers.


Potential customers are interested in your product or service and have taken the action of calling. This makes them highly viable leads from the start, but it doesn't mean they are fully qualified.
Menu prompts help to qualify callers with custom variables. Criteria such as geographic region, debt/loan amounts, square footage of a home, etc., can be used to help qualify leads.
These same criteria can determine which sales teams or lead buyers these leads are distributed to.
4. Lead Distribution and Sales
IVR is a valuable component of a lead sales system. Live phone leads are the most valuable type of lead as they have shown interest, intent, and motivation to purchase.
Sales leads are distributed based on their qualifying criteria within the IVR software. Qualifying and distribution data is established by IVR responses and caller ID based on predetermined criteria. In a lead distribution system like LeadExec, those leads can be sent to sales teams or lead buyers.
IVR allows lead providers to capture the most valuable sales leads, qualify them and forward them in real-time to sales teams. Those sales teams have data that they can use to increase close rates. The result is higher ROI on leads for lead generators, sellers, and buyers.
Learn more about lead distribution software