How to Achieve Sales and Marketing Alignment with ClickPoint
Analytics for Marketing Channel, Lead Source, and Campaign Performance to drive marketing decisions in real-time.
Marketing and sales departments do not operate in silos if they want to create a scalable team and predictable revenue growth. It takes time and commitment to get them working together and on a consistent basis.
Strategic Lead Management and Sales Engagement implementation is not just about distributing leads and ensuring salespeople are actively following up on their leads. In order to elevate your sales team you need great leads and lots of them.
While ClickPoint Lead Manager does not ensure you are always going to get great leads, it does help you identify problem lead sources which is critical to the success of your team. The easier you can identify strong lead sources while removing underperforming ones, the faster you will scale your sales team.
Deploy Best Practices and Achieve Much Better Revenue Growth
To create better leads and more of them, marketing managers require access to real-time reporting that validates their decisions.
The first roadblock that prevents marketing teams from being able to effectively improve lead quality, quantity, and conversion is lack of transparency from the sales floor when it comes to lead conversion. ClickPoint takes into account not only Lead Source tracking but takes it a step further with Marketing Channel and Campaign tracking.
The Campaign solution allows you to set a price per lead and a budget. The budget is critical for determining success from social media and cost per click campaigns where a predetermined lead price is not known. With Campaign budgets, ClickPoint will identify your lead cost, which is then used to determine metrics like CPA (Cost Per Acquisition) which tells you how each Campaign is performing.
Use Smart Email Nurturing Campaigns
ClickPoint Lead Manager features an email nurture solution that enables marketing departments to add their own HTML or plain text emails that can be delivered to leads based on a variety of factors. Emails can be automatically sent every time a lead is updated, by timed interval, or if the email is opened.
Once an email is opened ClickPoint can deliver notifications to the corresponding salesperson by modal or email. The email nurture solution will show open and delivery results, even ISP delivery. If there is another email solution you already use, don't worry the ClickPoint API can send notifications to external solutions.
Reporting that Empowers
How great would it be to trust that salespeople are not cherry picking leads or giving up on dials?
Stage 1. With real-time reporting it is easy to ensure salespeople are contacting every lead at the right time with a prospects preferred communication method.
Stage 2. Salespeople increase contact rates and conversions by improving dial efficiency with Local Presence and Voicemail Drops.
Stage 3. As the marketing manager you can focus on the data, not fixing a broken sales process and start make more reliable lead purchasing decisions.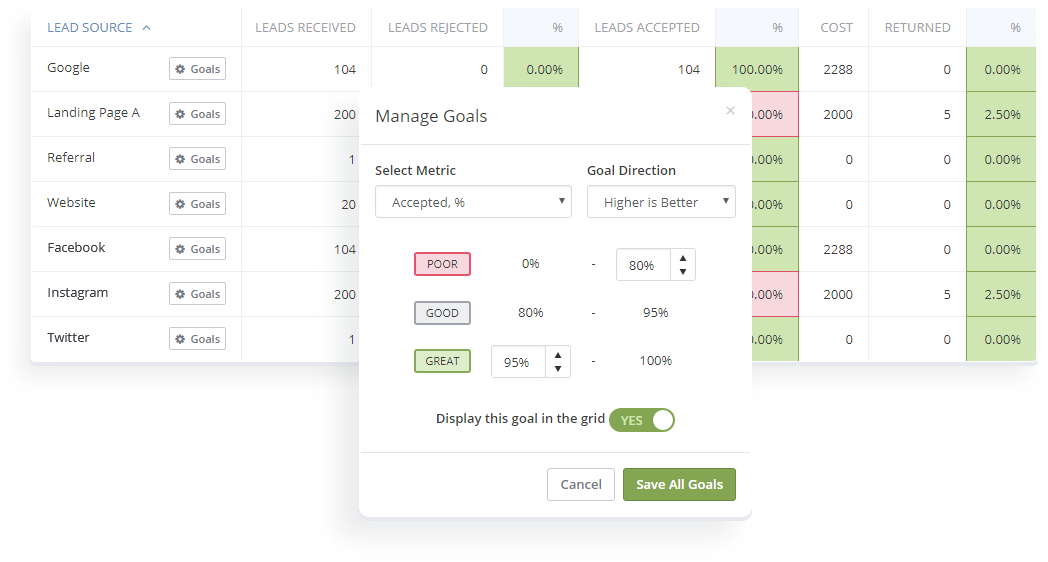 ClickPoint Lead Manager™ with Sales Engagement: Achieve Sales and Marketing Alignment and Impact On Your Bottom Line