Using SMS Templates and Lead Follow-Up with RingResponse's Texting Tools
Reach more prospects, convert them into paying customers, and follow-up with texting tools – quickly send a Text SMS to any lead.
As you already know from our previous blog post–Introducing SMS Texting Solution for Call Centers and Sales Teams–with ClickPoint/RingResponse at your fingertips, you get the easiest way ever to complement your over-the-phone sales activities with SMS texting tools – quickly send a Text SMS to any lead or prospect from the communication center, then call, or send emails automatically or manually to follow up.
Adding SMS Text to Your Sales Stack
To enable RingResponse Text SMS:
1. Login to your account https://www.sales-exec.net/Login
2. Go to More > My Account > Integrations; OR use the direct link: https://www.sales-exec.net/Administration/#/Integrations/
3. Click 'Enable' near to 'RingResponse Text SMS'
Phone Number Configuration
To start, navigate to the Manage Numbers screen and select the gear icon. Enable Allow SMS. You can define to use this number as a default but please note, if you have multiple default numbers, ClickPoint will pick one at random.
After configuration is complete, you are ready to start sending text messages to your leads.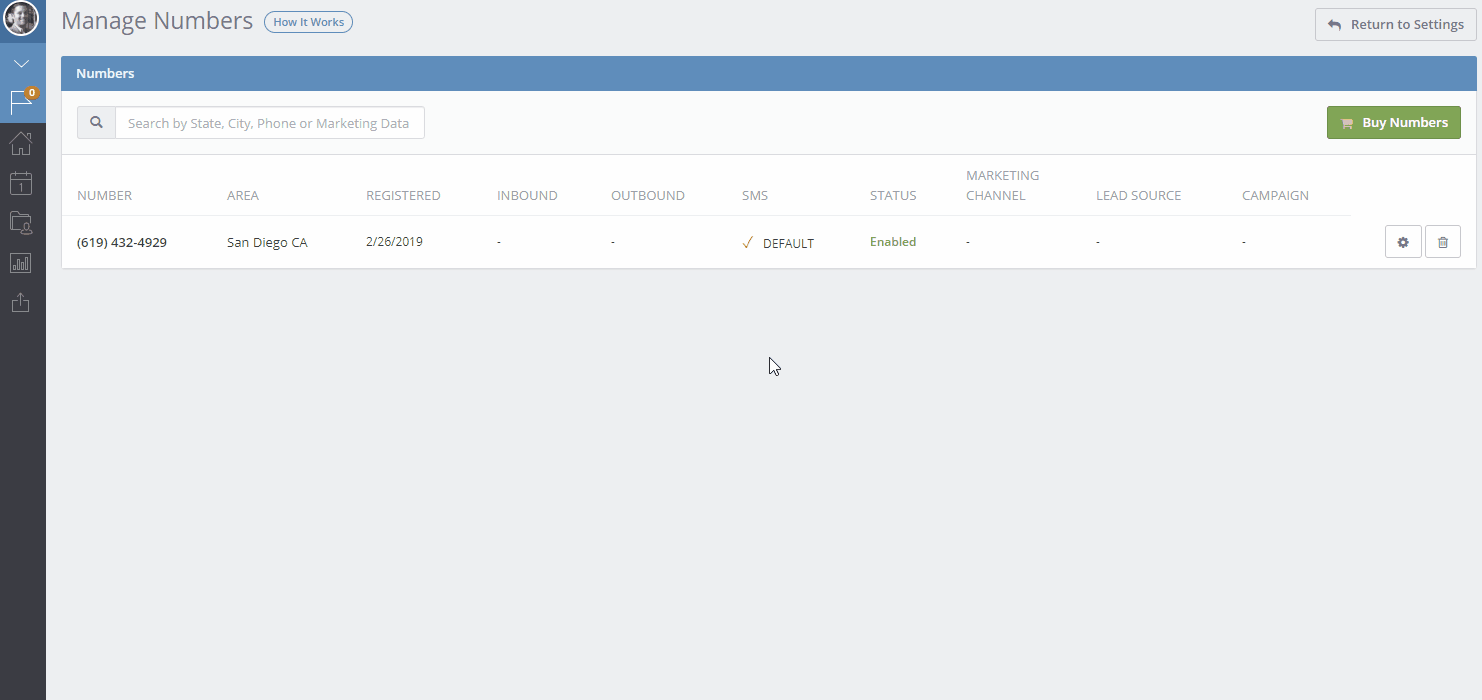 Using Text SMS Templates
Draft Text Message Templates to quickly engage and connect with your leads.
First step is to create a group to house your templates. This makes navigation by your users much easier. Create groups for things related to your products or seasonal promotional messages.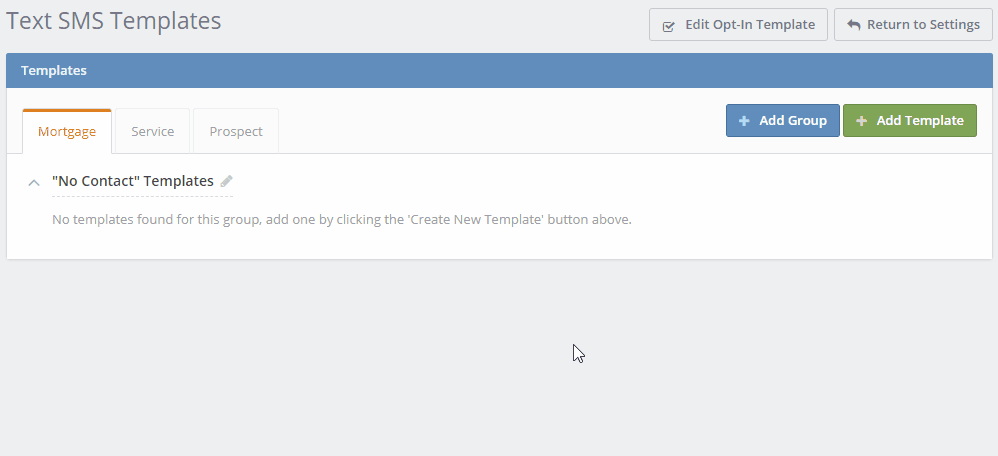 Once you have created your groups, select Add Template which will display the template editor.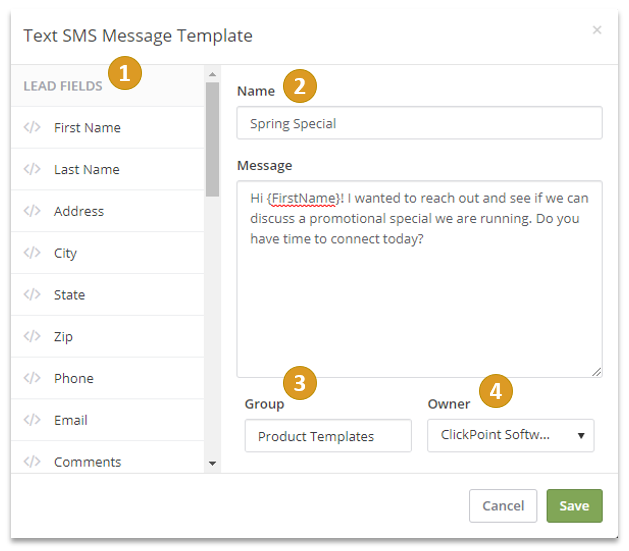 Lead Fields – Inject lead fields associated to your lead directly into your template like the lead's first name, or a product.
Name – Provide a descriptive template name for easy navigation.
Group – Associate this template to a group.
Owner – Define who owns the template.
After you create your template, your sales team can now use this template via the Messaging Center or an administrator can use it within an action in a workflow.
Configure your Opt-In Template
If you have sufficient user permission levels, you can configure the SMS Opt-In template for your ClickPoint account. You want to make sure it is generic enough especially if you have different record types for various types of products.
You can configure your Opt-In template by navigating to Text SMS Templates via the ClickPoint settings page.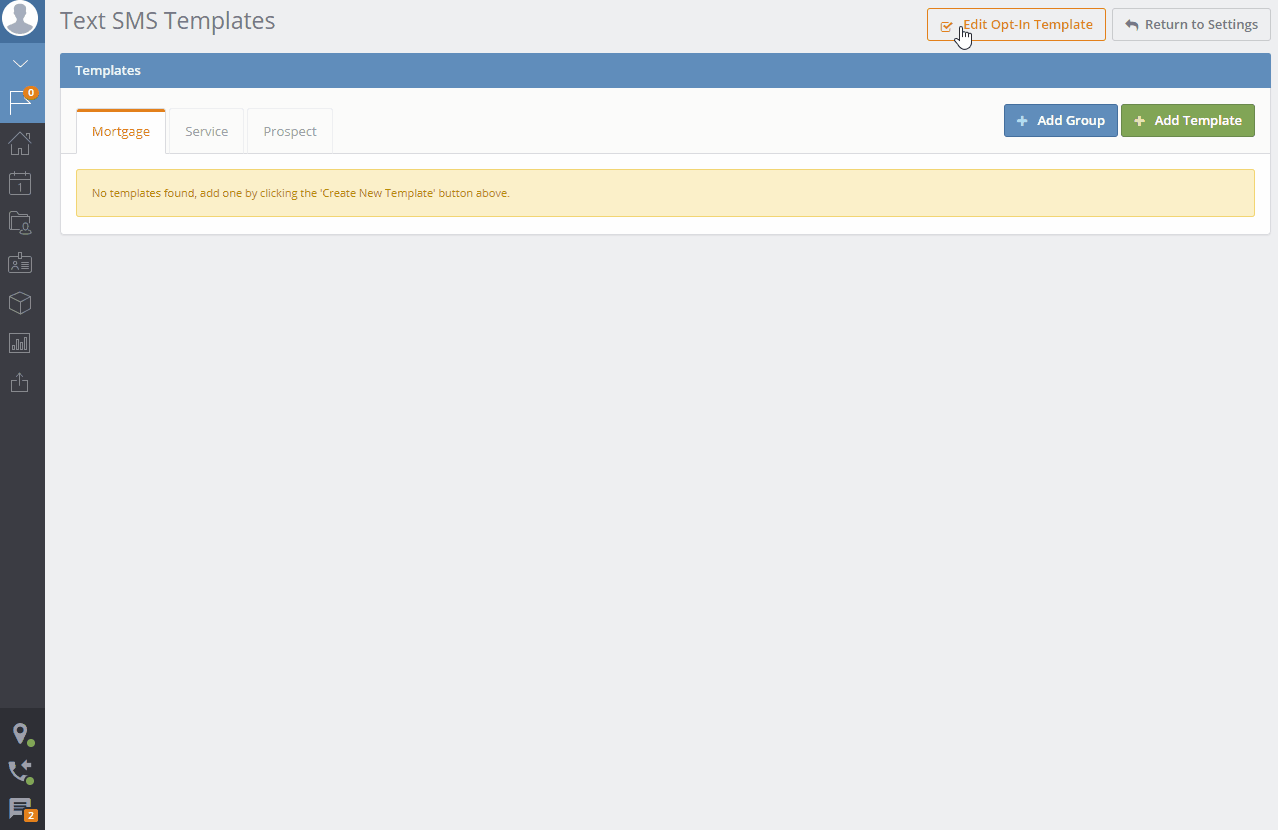 Using the Opt-In Template
When you initiate the very first text message to a lead, ClickPoint will automatically send the Opt-In template before your initial message is sent. The lead will have to opt-in to receiving text messages to get your original message or any future ones and this happens for every lead (even duplicates).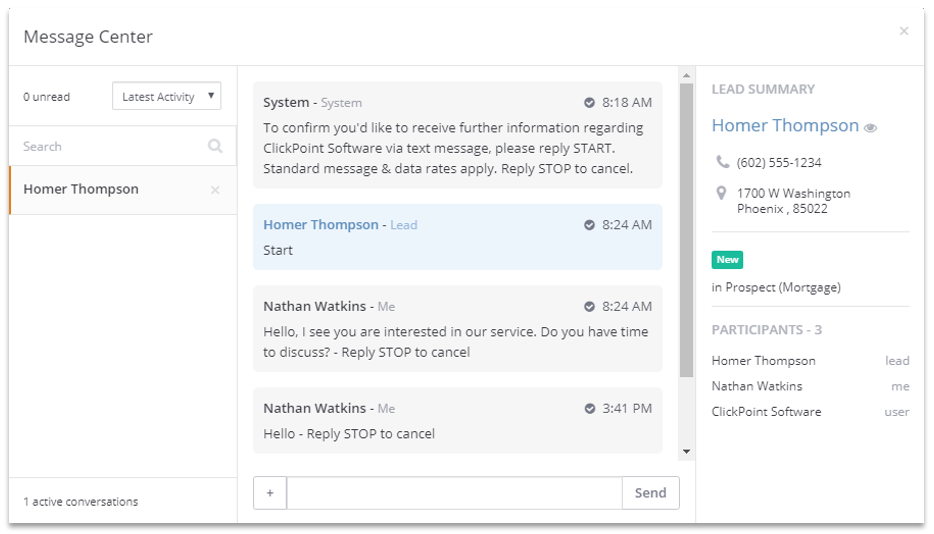 To view the status of an Opt-In template, you can view in the Messaging Center, via the Text History on the Lead Details Screen or searching for the lead in your Do Not Contact List. The statuses are:
Sent: The account's Opt-In template message has been sent.
Not Sent: The Opt-In message has not been sent to the phone number.
Accepted: The phone number has replied with START to the Opt-In message.
Rejected: The phone number has replied with STOP to the Opt-in message.
Note: Every message sent to a lead will append Reply STOP to cancel automatically to the end of the message to help you remain compliant.