TCPA Compliance Solution for Marketers, Call Centers, and Sales Teams
ClickPoint launches a TCPA compliance solution, helping lead buyers and lead sellers work within TCPA requirements for consumer consent.
ClickPoint releases patent pending lead certification solution
ClickPoint Software, an industry leader that provides lead management software to marketers, sales teams and call centers, unveils its solution this week to provide TCPA (Telephone Consumer Protection Act) best practices in response to their newest update to existing requirements.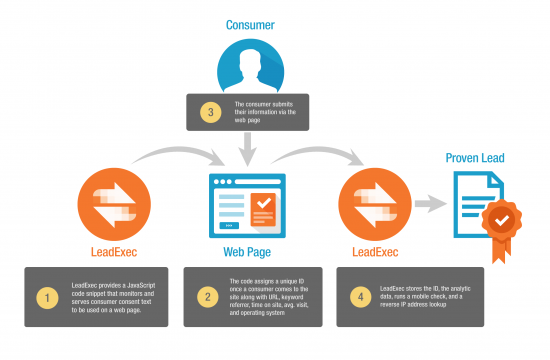 The online lead generation industry, sales industry, and call centers are all affected by these new TCPA compliance requirements. These TCPA compliance requirements go into effect on October 16th, 2013 in ways that will require both time and resource allocation. Finding solutions that enable compliance, while not degrading operational efficiency, will be of the utmost importance to all companies that provide leads to their sales force and to marketers who supply leads to lead buyers.
ClickPoint has built a patent pending lead certification solution that enables both lead sellers and lead buyers to certify leads that are obtained on websites, web-forms, or by third party lead capture forms. The solution ensures that consent text is present on a website, and that consent to be called on their mobile device by an automated dialing solution was given by a consumer visiting a website or landing page. The ClickPoint solution captures analytic data such as time on site, pages visited, IP address, and confirms that a consumer did provide express consent by accepting the consent terms of service shown on a website.
The solution responds to the TCPA compliance guidelines by providing real-time verification of consumer consent, location of the consumers IP address to reduce fraudulent submissions, and real-time mobile phone status, while preserving the consent for a period of at least 5 years.
Additionally, the solution allows sales teams to continue operating efficiently by identifying consumers who have supplied a mobile phone and consent to be called using their mobile phone number. If a mobile phone is supplied without consent, the consumer will be flagged and unable to be called unless done so by manual operation.
The solution provides easily printable documents that contain consumer location, consent, IP address, time on site, and additional items in order to show that consent was provided and verifications stored in a secure location.
"With the new laws taking effect on October 16th, 2013, it is important that software solution providers present proactive solutions to their clients rather than simply updating their terms and conditions. While it may be scary navigating through the law and its implications, we believe it is our duty to responsibly provide solutions now," said Gabriel Buck, CEO of ClickPoint Software.
You can read more about the upcoming laws here or review the ClickPoint white-paper here. The ClickPoint whitepaper details specific steps to take in order to fulfill the TCPA requirements and shows you how to use the patent pending ClickPoint solution.
TCPA Information
Congress enacted the Telephone Consumer Protection Act (TCPA), 42 U.S.C. §§ 227 et seq. in 1991 as response to a growing number of consumer complaints regarding telemarketing calls. Federal Communications Commission (FCC) has implemented rules and regulations that define "telemarketing" as "the initiation of a telephone call or message for the purpose of encouraging the purchase or rental of, or investment in, property, goods, or services, which is transmitted to any person." 47 C.F.R. § 64.1200(f) (12).
As the telemarketing industry has expanded, the FCC has adopted additional protections that include restrictions on autodialed calls or text messages as well as pre-recorded messages. Autodialed calls are defined as calls involving a live person or pre-recorded message that is placed by an automatic telephone dialing system that has the capacity to produce, store and call telephone numbers using a random or sequential number generator. This definition is broad enough to include "click-to-dial" systems as well. On October 16th, 2013, a telemarketer, salesperson, or marketer will be required to obtain express written consent for all autodialed calls or text messages as well as pre-recorded messages made to a residential landline as well as to cell phones for marketing purposes. Compliance with the Federal E-Sign Act (15 U.S.C. § 7001, et seq.) satisfies this requirement by use of agreements obtained via email, website form, text message, telephone keypress or voice recording. To comply with the new rule, the consumer must receive a "clear and conspicuous disclosure" that the customer will receive future calls that deliver autodialed and/or pre-recorded telemarketing messages on behalf of a specific marketer; that the customer's consent is not a condition of purchase; and that the customer must designate a phone number at which to be contacted.
By Gabriel Buck