Tips for Improving Your Outbound Sales Strategy
Sales and marketing teams should consider how the modern consumer has evolved. New outbound sales strategies are critical to future growth.
With an onslaught of convenience technology, your ideal customer's habits are changing rapidly, and the buyer journey is now more critical than ever. Many tried-and-true sales and marketing tactics are now outdated. Companies need to adapt to stay on top in their specific vertical market. Customer reviews, organic growth strategy, speed of contact, and a strong outbound and inbound sales methodology are all critical to evolving with current consumer buying trends.
Occasionally, I like to watch an old 80's movie. I can relive my childhood a time when things seemed more straightforward – by watching some of my favorite characters like Chevy Chase, John Candy, or Steve Martin. I'm sure most people have similar rituals, as nostalgia is a universal comfort.

Every business owner can think back to when things were more straightforward than today. While reminiscing about the good old days is usually harmless, it can be deadly if you don't get current with your customer outreach strategy. One must be able to pivot and meet the demands of evolving buyer behavior and technology landscape.
Many companies fall into the trap of choosing comfort over change from time to time. While the same lessons, solutions, and tools that worked ten years ago are comfortable, they may not remain applicable.
Changing Consumer Behavior is Driving Technology, Sales & Marketing Strategies
The modern client is tech-savvy: they now access consumer review databases where they can research your product or service, customer service, rates, and pricing, such as Home Advisor, Angi, Google Reviews, Trustpilot Reviews, Yelp, and more.
Consider these statistics:
Over 55% of consumers run an online search in most home services verticals to scan reviews before scheduling an appointment. (Source:

KPMG

)
Consumers read an average of 10 online reviews before feeling able to trust a local business. Many consumers will not reach out to a home services provider until they have vetted their reviews. (Source:

BrightLocal

)
A Facebook-commissioned Nielsen study of global Facebook data found that 1 billion people use Messenger monthly. The same study also found that 56% of those surveyed would prefer messaging a company to calling customer service or sales. (Source:

Facebook

)
As a business owner, you want to be armed with the correct sales outreach strategy to levy these circumstances in your favor, allowing you to take advantage of the winds of change.
What Do These Statistics Tell Us?
First, your business must maintain a stellar reputation online. One way to do this is to build customer review requests into your post-sale process. You might also incentivize your sales reps in return for positive customer reviews. The more positive reviews you have, the better.
Second. Consider your buyer personas; some of your buyers prefer communicating with you via chat, some by phone, email outreach, and some by text. Your sales team should have every communication method available for use.
Third. Be ready to respond quickly to consumers when they show interest in your services. With a growing consumer trend to avoid phone calls until they are prepared and ready to make a purchasing decision, the speed to contact your team reaches out to leads has never been more critical.
Fourth: You should consider your organic growth sales strategies and organic online growth. You must also be active or at least monitoring social media, at the very least, to acknowledge and respond to any reviews on your Facebook, LinkedIn, or Google local profile.
A Drift survey of nearly 400 customers found that a business is ten times less likely to reach a prospect if leads are not contacted in under five minutes.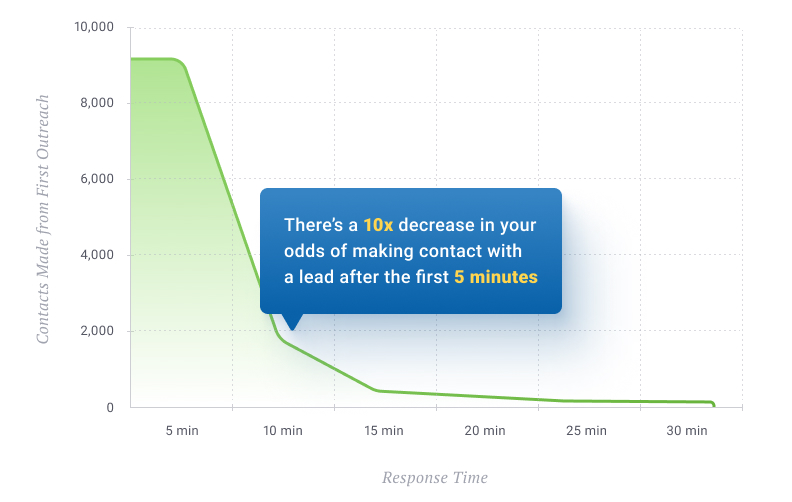 (Source: Drift Customer Survey).
Based on their research, we can see that consumers decide which provider to work with. With these statistics in mind, prioritizing ease of communication is crucial in your cold-calling and warm-calling process. Ensure that your salespeople can assist a prospect ready to have a conversation to shorten the sales cycles.
Fifth. Qualified lead assignment rules also become critical to ensure prospects route to a friendly team member who can answer questions, listen to them, and offer a solution to their problem. Most outbound sales solutions can assign leads based on criteria like; skill, geography, product, team, lead score, or calling campaign.
See: Getting Started with Lead Communication Cadences
By adapting to current outreach best practices and creating an intelligent outbound strategy, you'll be able to grow your business with the expanding market and stay ahead of the curve.
Let's cover outbound technology solutions you can use to reach more contacts.
Cold Email – A dedicated team that only uses cold email is necessary for B2B companies, but not so much for B2C. With cold email, it is vital to have groups of SDRs specifically trained to locate target customers through LinkedIn Sales Navigator or services like ZoomInfo. You will first want to identify your target personas and build cold email campaigns specifically designed for each.
Targeted Nurture Email – Drip campaigns become important once prospects are identified as a SQL or Sales Qualified Lead. Once marketing has determined a lead is MQL or Marketing Qualified Lead, marketing will assign leads to sales reps to further qualify them as an SQL. Once a prospect becomes an SQL, there are nurture emails that will push the prospect through the buyer journey.
Text Marketing – Text Marketing solutions are generally more effective with the B2C vertical. If a prospective customer provides their cell phone and is interested in your service, the text is a great way to catch them when they are still interested. Your text messages should be short and to the point, pushing them for an actual phone call or appointment.
Outbound Power Dialing – Once MQL leads are assigned to a queue, your outbound reps should call with a set cadence. Think about how many calls are right over the first week since the prospect showed interest. For B2C, this might be frequent, with multiple daily calls, whereas for B2B, you might want to space things out and call once every couple of days.
Lead Recycling – Once leads are assigned to a sales rep and have stalled out, a good outbound strategy is to recycle the information and let another sales rep have a chance at conversion. Creating specific teams for categories like win-back or cross-sell or a prospect-saves campaign can help improve your outbound success. Specialized teams know that a SQL or MQL has gone cold, and they need a different set of our communication material to re-engage the prospect.
You can usually find specific solutions that offer these outbound services, but some have all these tools in one solution. If you use independent solutions, ensure they can integrate easily with your CRM or lead management software or have Zapier connections to help keep your data synced.