5 Boberdoo Competitors for Lead Distribution
Looking for lead distribution software? Here are 5 Boberdoo competitors, each a little different, for your consideration.
Boberdoo's lead distribution software is a comprehensive tool designed to automate and streamline distributing leads among sales representatives. The platform has a user-friendly interface and features for sales efficiency and productivity. Its standout features are lead scoring, lead routing, and call tracking.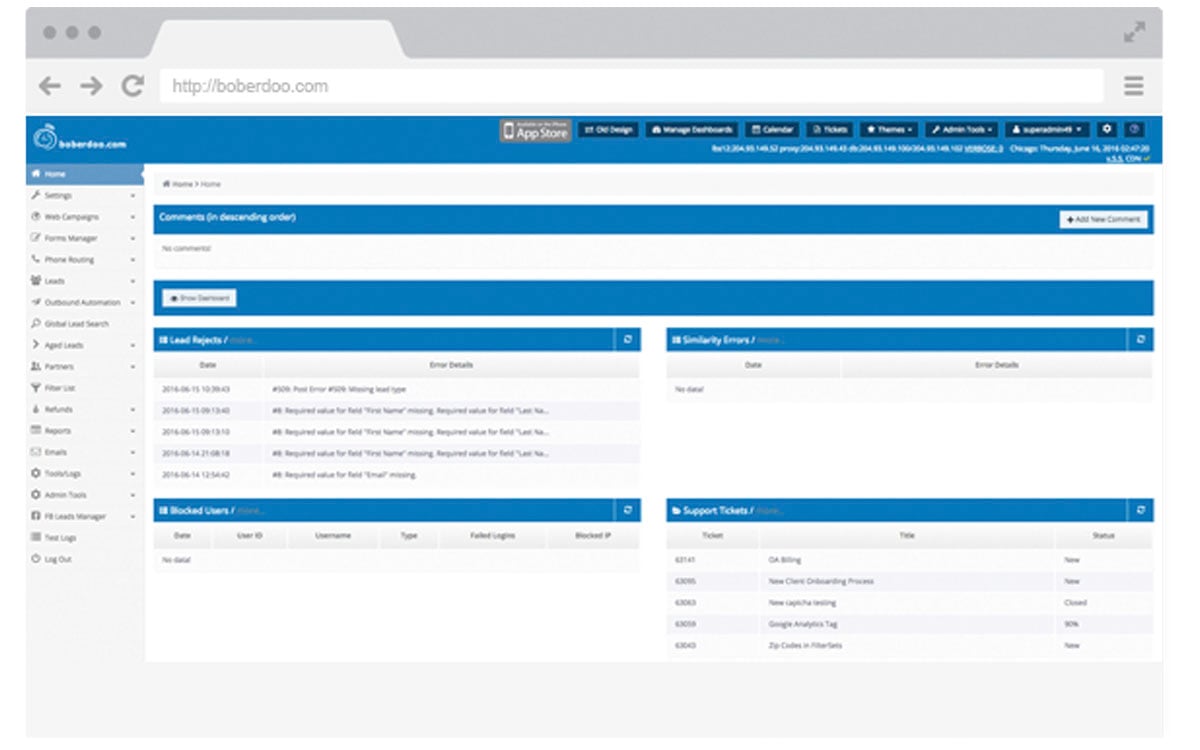 Boberdoo offers various pricing tiers to suit different budgets and business requirements. Users report that the support team is knowledgeable, responsive, and helpful in resolving issues.
Despite its numerous benefits, Boberdoo does have some limitations. One of the most significant concerns is that it may not be as customizable as other options. This could limit its usefulness for businesses with unique or complex workflows.
Moreover, the software may not be well-suited for intricate sales cycles that require advanced tracking and management features. Boberdoo is an excellent tool for many businesses, but those with more complex needs may need to consider other options.

1. LeadExec
LeadExec offers an advanced, feature-rich platform. Like Boberdoo, LeadExec provides essential features such as lead scoring, routing, and call tracking.
LeadExec also manages lead ordering, billing, and payments. The integrated payment portal simplifies selling and buying leads, making it an all-inclusive lead distribution and sales solution.
It also integrates advanced AI-based capabilities with Interactive Voice Response (IVR), SMS and chatbots. The AI-based IVR system helps manage inbound calls effectively, enhancing the customer experience. Similarly, AI-driven chatbots allow businesses to interact with leads in real time, providing immediate responses and improving engagement. These advanced tools give LeadExec an edge in seamlessly handling digital and telephonic interactions.
Pay-per-call marketing is another LeadExec feature, allowing businesses to maximize ROI on valuable phone-based leads. Pay-per-call campaigns create trackable phone numbers and function like pay-per-click. Campaigns can be easily tracked and optimized, and buyers pay only for good leads.
LeadExec can capture leads from many lead sources, including landing pages, chats, and phone calls. The system integrates seamlessly with popular form providers like Unbounce, Formstack, and WuFoo.
Moreover, LeadExec ensures lead quality by discarding fraudulent, incomplete, duplicate, or incorrect contact details. It employs a rule-based approach to lead routing, automating various delivery and distribution methodologies to expedite lead delivery.
LeadExec might be too sophisticated for marketers who only transfer leads from web forms to CRM systems. However, for performance marketers, lead gen companies, and large enterprises with multiple locations or branches, LeadExec is an excellent tool. Its advanced features and integrated invoicing and payment make it a top choice for end-to-end lead distribution software.

2. LeadsPedia
LeadsPedia is a comprehensive lead delivery platform that captures and manages leads in real time. Leadspedia can gather leads via multiple avenues, including web forms, ping-tree systems, and server posts. It ensures versatile delivery options, forwarding the leads through servers, ping-post systems, email, or even SMS.
One of LeadsPedia's key features is its integrated call tracking and routing system, which includes an Interactive Voice Response (IVR) system. LeadsPedia also offers lead validation capabilities, ensuring only high-quality, genuine leads are forwarded to sales reps.
LeadsPedia implements duplicate checks, lead validation, and compliance verification systems to maintain lead value and quality. Additionally, the platform offers real-time reporting, providing transparent tracking data.
Despite its robust capabilities, LeadsPedia may present some challenges. Some users report finding the platform difficult to navigate, particularly those new to lead generation and distribution platforms. Its reporting lacks customization options, and some consider its user interface outdated. Furthermore, LeadsPedia does not offer a mobile app, potentially limiting access for businesses that need on-the-go access.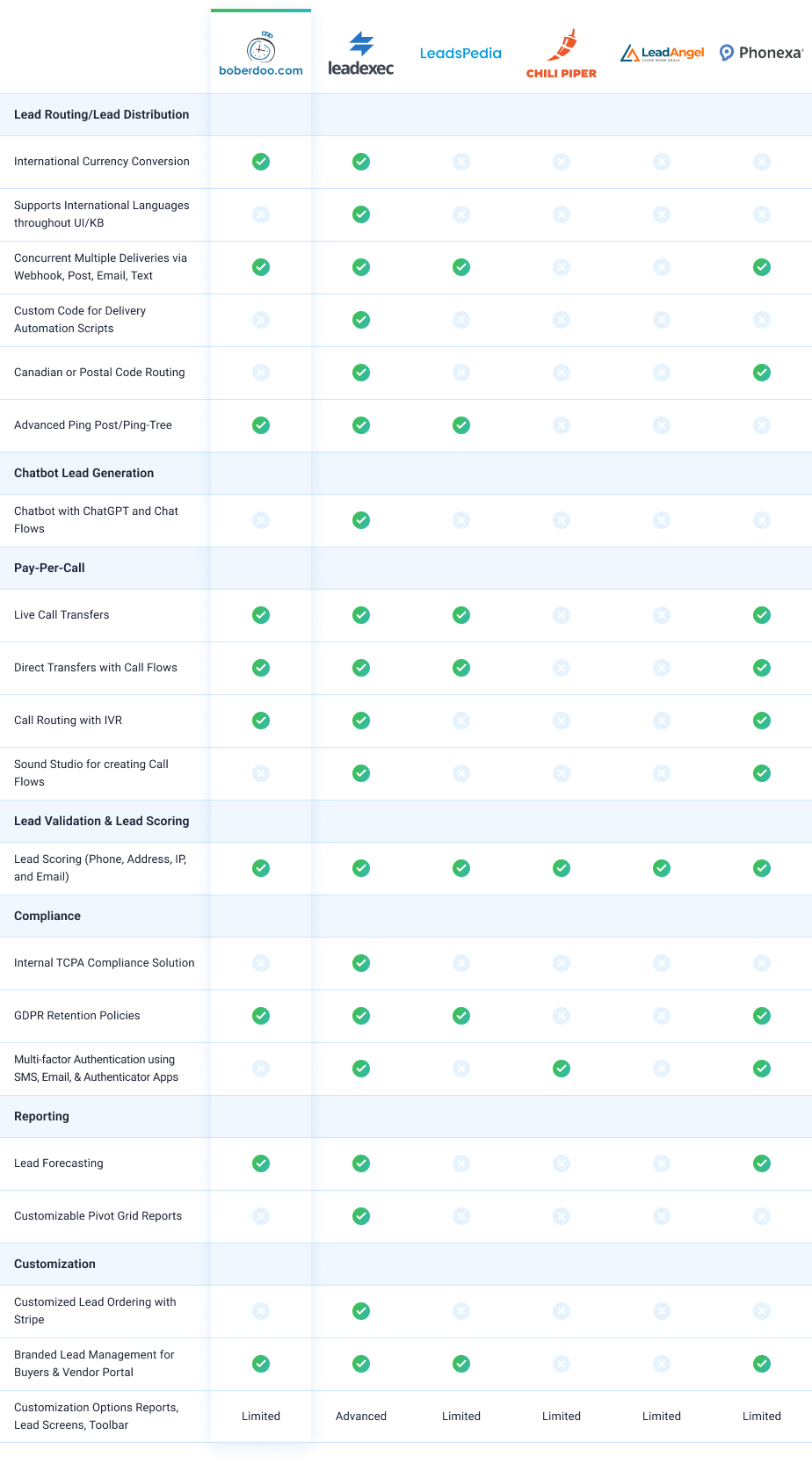 3. Chili Piper Distro
Chili Piper is a recognized name in the B2B sales landscape, known for its scheduling software tailored specifically for sales teams. Its key offering is inbound sales software with lead routing features designed to facilitate the scheduling of web meetings. The Chili Piper web forms capture, qualify, and route leads to sales representatives in real-time.
Distro is a streamlined lead distribution platform designed specifically to work in tandem with Salesforce CRM.
Distro operates by defining trigger events that automate real-time web lead delivery to sales teams in Salesforce. These events are based on criteria such as lead scores, prioritizing, and routing leads to the appropriate sales representatives.
Despite its simplicity and ease of use, Distro has certain limitations. It lacks some of the more sophisticated routing features of other lead distribution platforms. Most notably, Chili Piper is designed to work exclusively with Salesforce, limiting its use for businesses using different CRM systems.

4. LeadAngel
LeadAngel provides lead routing, lead-to-account matching, and data segmentation tools to businesses. These features help improve lead management and, ultimately, sales efficiency.
LeadAngel's lead routing ensures that lead assignments go to the right reps based on location, product interest, source, or other attributes.
One notable feature of LeadAngel is its lead-to-account matching capability. This feature helps businesses associate incoming leads with the right accounts in their CRM.
LeadAngel also offers data segmentation tools that allow businesses to segment their lead and customer data based on specific criteria.
LeadAngel integrates with most popular CRMs, such as Salesforce and Microsoft Dynamics.
While LeadAngel offers rule-based lead routing, it doesn't provide as many customization options as other platforms. Businesses using less common CRMs or other software tools might have difficulty integrating with LeadAngel.
LeadAngel focuses on lead routing, lead-to-account matching, and data segmentation. Businesses needing features like advanced telephony, chatbot, and diverse integrations might be better off with other options.

5. Phonexa
Phonexa offers comprehensive marketing tools to businesses, including call tracking, lead distribution, email marketing, and data analytics.
Phonexa's Call Logic is an advanced call tracking and distribution system using criteria-based delivery.
While Phonexa is robust in its offerings, it isn't as customizable for specific lead routing needs as some other platforms. Businesses using less common CRMs or needing certain niche features might face integration challenges.
Phonexa excels in call tracking, lead distribution, and email marketing. However, it may be too complex for businesses looking for simple lead routing without telephony or email marketing capabilities.
When choosing a lead distribution software, it's important to consider the specific needs of your business. The right choice depends on the features you need and how compatible the software is with your existing systems and workflows.
Learn more about lead distribution software.