5 Chili Piper Competitors for Lead Distribution
Chili Piper is a great tool for routing leads, but is it right for you? Chili Piper competitors offer different features for different types of users.
Lead distribution software is a critical tool for performance marketers and lead generation companies. Chili Piper is a popular tool for lead distribution. Is it best for you?
Lead distribution software automates the lead distribution process and uses rules to route leads to lead buyers or sales teams.
Effective lead distribution contributes to massive revenue gains for performance marketers and lead generation companies. The best lead distribution solutions incorporate various ways of monetizing leads, including distribution based on price, priority, and weighted delivery.
For lead buyers, effective lead distribution reduces response time on urgent web inquiries or inbound phone calls. Properly distributed leads move from the lead source to sales incredibly quickly. Lead distribution software then assigns leads to sales reps, where lead management software takes over. Lead qualifying and contact rates are improved, sales increase, and lead ROI goes way up.
Every business strives for efficiency and increased ROI. This makes lead distribution software a necessity for lead-based businesses.
What is lead distribution software?
Lead distribution software is the foundation of a lead distribution strategy. Lead generation companies and performance marketers can't be competitive without a powerful lead distribution system. By delivering verified and qualified leads to sales teams, lead distribution software increases efficiency in the sales process.
Important lead distribution features include:
Lead Capture: Captures leads from websites, landing pages, social media channels, email, and inbound calls.
Lead Hygiene: Ensures that leads are legitimate and compliant with privacy regulations.
Lead Qualifying: Checks for accuracy of contact information and that the lead meets qualifying criteria.
Integration: Has lead management software and/or CRM integrations.
Lead Delivery: Routes the right type of leads to the right reps with custom qualifying criteria.
Flexible Delivery Methods: Delivers leads by a variety of methods such as ping post, XML, JSON, HTTP Post, Get, email, and text.
Reporting: Tracks leads and lead sources to determine which sources perform best.
Chili Piper Distro
Chili Piper makes scheduling software for B2B sales teams. It works with web forms, marketing emails, chatbots, and within SaaS applications. Chili Piper is an inbound sales automation software with lead routing features for scheduling web meetings. Chili Piper web forms qualify, and route leads to reps in real time.
Chili Piper currently has five software products. Their basic lead distribution product is called "Distro."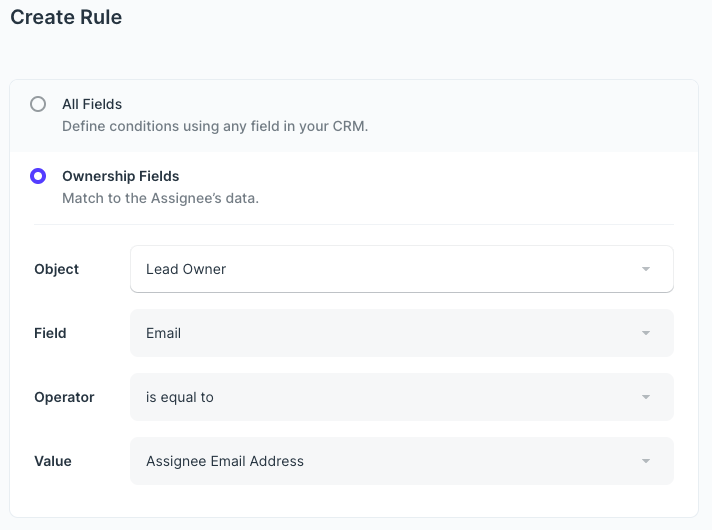 Distro is a very simple lead distribution platform that works with the Salesforce CRM. Trigger events defined in Chili Piper Distro automate web lead delivery in real-time to sales teams in Salesforce. Trigger events are based on definable criteria such as lead scores.
Pros: A simple lead routing automation for Salesforce users that's easy to set up and use.
Cons: Chili Piper only works with web leads, lacks sophisticated routing features, and only works with Salesforce.
Best for: Chili Piper is a good option for companies looking to simplify lead routing from web forms to Salesforce.
Trial available: No
Chili Piper Alternatives
Chili Piper is a great solution for Salesforce users who need basic lead routing that's easy to set up. If your organization needs a more sophisticated solution, there are a number of excellent Chili Piper competitors with different features.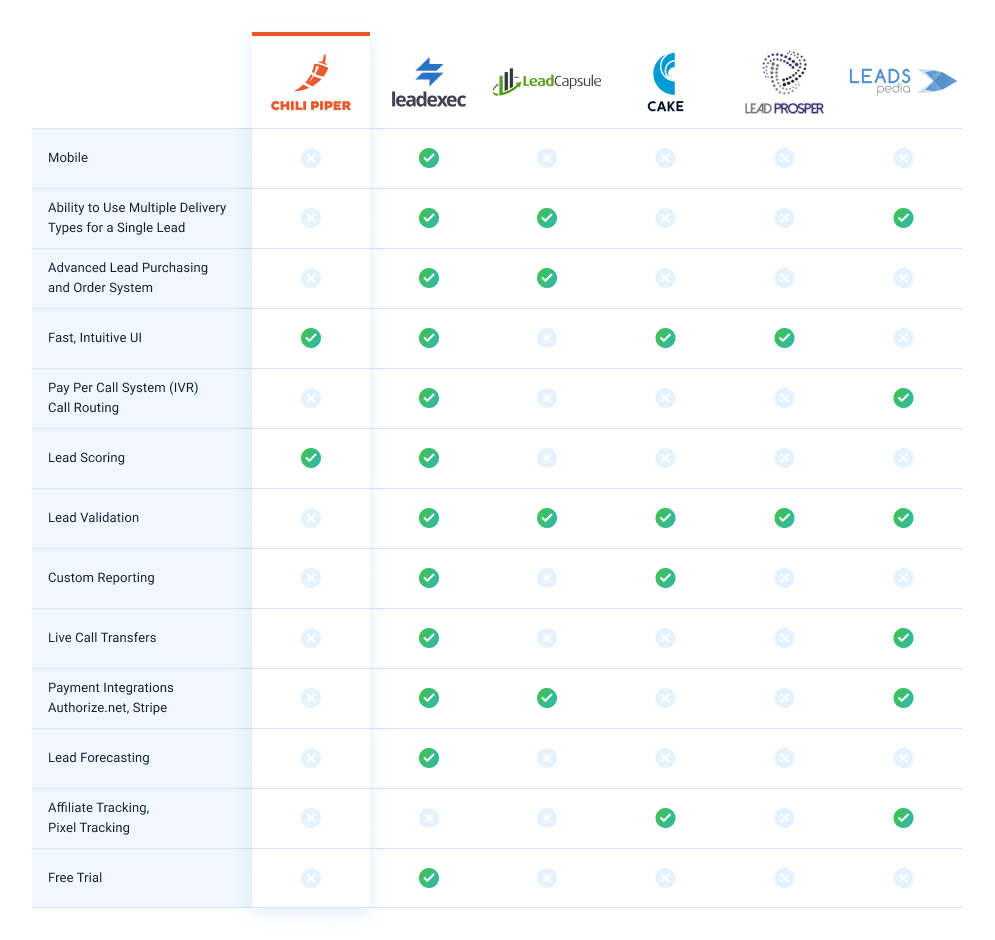 LeadExec
LeadExec is a powerful lead distribution platform that allows performance marketers to run a complete lead-gen business from one application. It's equally useful to individual marketers or enterprise companies. Enterprise companies with multiple locations, branches, or franchises can easily distribute leads from national marketing campaigns to regional sales teams.
LeadExec captures and tracks leads from vendors, forms, publishers, affiliate marketers, and phone campaigns. Integrated form providers accept leads from Unbounce, Formstack, or WuFoo.
Bad and fraudulent leads with missing information, duplicates, wrong phone numbers, or emails are instantly rejected from the system.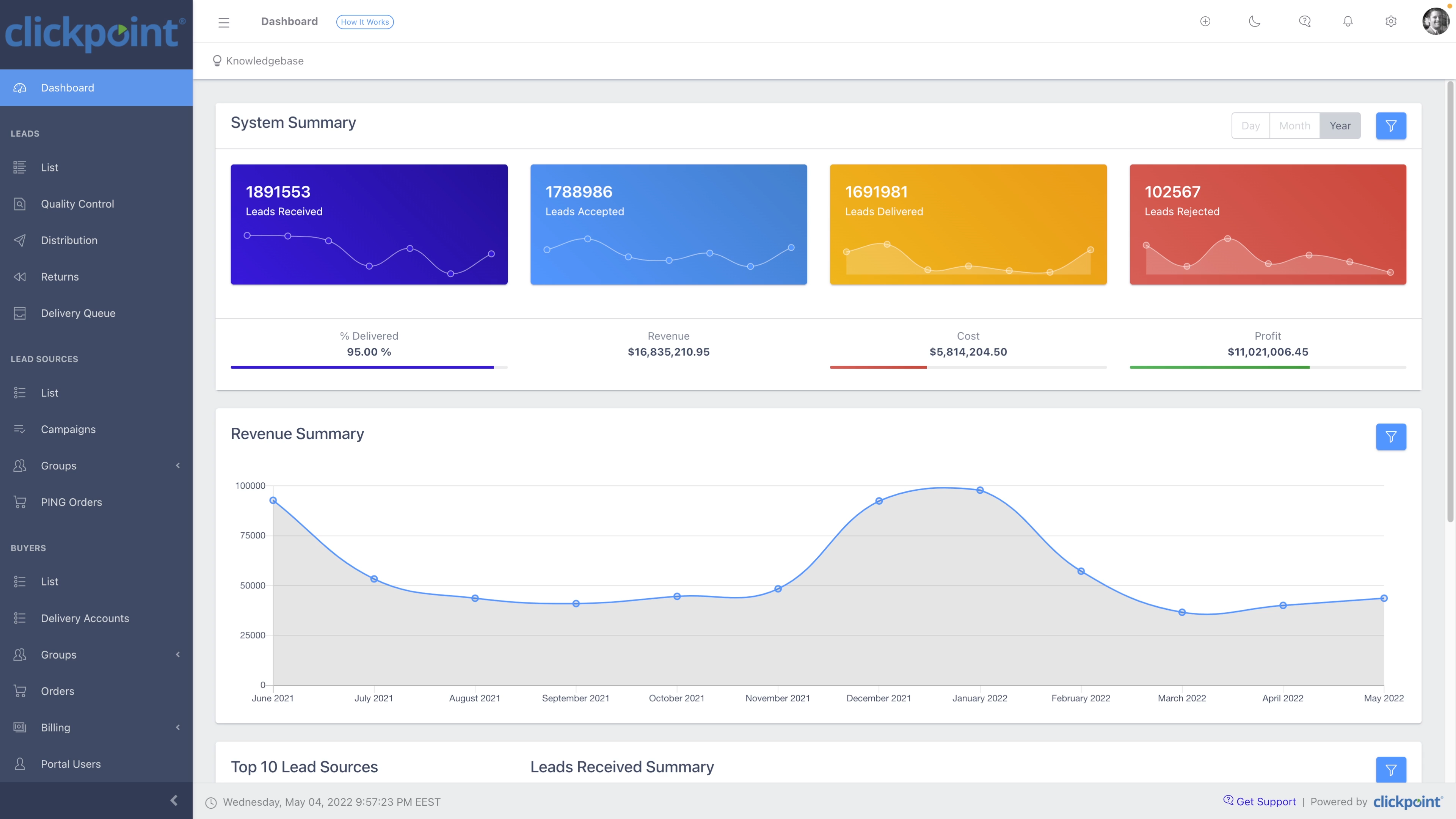 LeadExec has rule-based lead routing and automates multiple delivery and distribution types to deliver leads in seconds. Delivery issues trigger real-time notifications. Web leads and incoming calls can be delivered via percentage, price, round-robin, weighted, and order priority. Clients receive leads by HTTP post, JSON, XML, SOAP, Get, ping-post, email, text, or through integrated lead management software.
LeadExec also contains invoicing and payment tools to simplify lead selling and buying.
Pros: A powerful all-in-one lead distribution system with hygiene checks, sophisticated routing criteria, flexible delivery methods, and billing. Great customer service and support.
Cons: LeadExec may be too complex for marketers that only need to move leads from web forms to CRMs.
Best for: Performance marketers, lead generation companies, and enterprise businesses with multiple locations, branches, or franchises. Companies requiring sophisticated lead ordering with invoicing and payment in one application.
Trial available: Yes
"LeadExec is all you need to automate your lead distribution to buyers, clients, or sales teams. LeadExec provides real-time lead distribution with any delivery method your clients require. Posting leads is easy via Ping Post, HTTP Post, email, text, and our web-based client portal."
Lead Capsule
Lead Capsul is a lead distribution platform that handles lead distribution from generation to distribution with lead commerce and CRM capabilities. Lead Capsule features call tracking for inbound and outbound calls.
Lead Capsul's user-friendly software has a strong feature set that allows users to fine-tune lead criteria.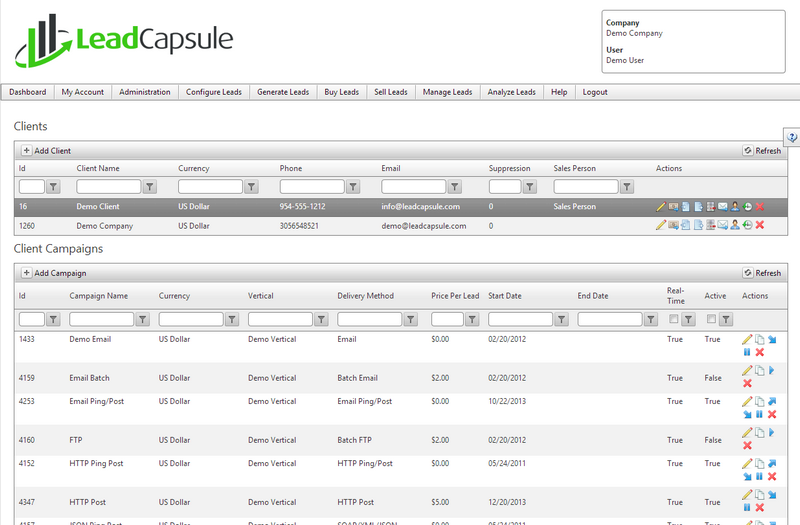 Pros: A feature-rich lead distribution system that's easy to use for less tech-savvy users.
Cons: Lacks TCPA compliance and fraud protection to prevent bad leads from reaching clients.
Best for: Performance marketers, and smaller lead generation companies.
Trial available: No
"Lead Capsule lead management capabilities are extremely robust. ... Search options range from lead status, lead source, sales, dates, fields, and data filters. Easily preview your leads and then select an action to perform."
CAKE
CAKE makes performance marketing software with lead gen, affiliate tracking, and multi-channel marketing.
Lead generation is optimized by visibility into lead sources, buyers, and lead quality. Using this optimization, CAKE scores and routes leads to buyers in real-time.
CAKE's affiliate tracking tracks partner marketing programs to optimize performance for the best ROI.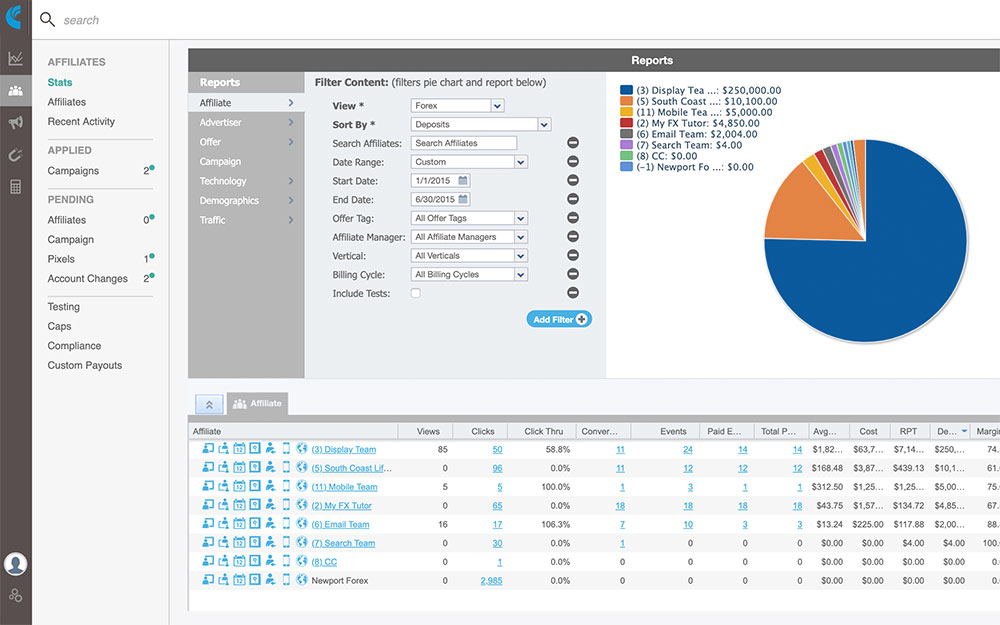 Customer acquisition costs can be measured across multiple marketing channels and compared to customer lifetime value. This helps to enhance campaign performance and multichannel strategies.
Pros: CAKE is a powerful lead distribution tool with sophisticated affiliate marketing capabilities.
Cons: Complex features and settings can be confusing, and onboarding can be time-consuming.
Best for: Large lead generation companies using affiliate marketers.
Trial available: No
"Optimize lead generation campaigns with confidence through immediate insights into lead quality, buyer activity, traffic source performance, and KPIs."
Lead Prosper
Lead Prosper is a lead distribution platform that offers a custom pricing platform with a low starting price. Lead Prosper's pricing tiers are based on lead volume and scale from very low to high volume.
Lead Prosper can deliver leads to multiple buyers or from multiple affiliate partners to a single buyer.

Real-time analytics monitor buys, sells, fails, dupes, etc. Critical alerts can be sent via email or text in real time.
Pros: Low starter price and pricing flexibility based on lead volume.
Cons: Lead Prosper only works with web leads and lacks call routing and transfer features. There is no native invoicing or billing feature.
Best for: Performance marketers and lead generation companies using web leads, start-ups with low budgets, and low lead volume.
Trial available: No
"Lead Prosper was built by industry veterans to be the most intuitive lead distribution platform. Built on the latest technologies and with constant feedback from our customers, we are always adding new features."
LeadsPedia
LeadsPedia is a comprehensive lead delivery platform that captures leads in real time. Leads are captured through web forms, ping-tree or server post. Leads are delivered by server, ping-post, email, or SMS.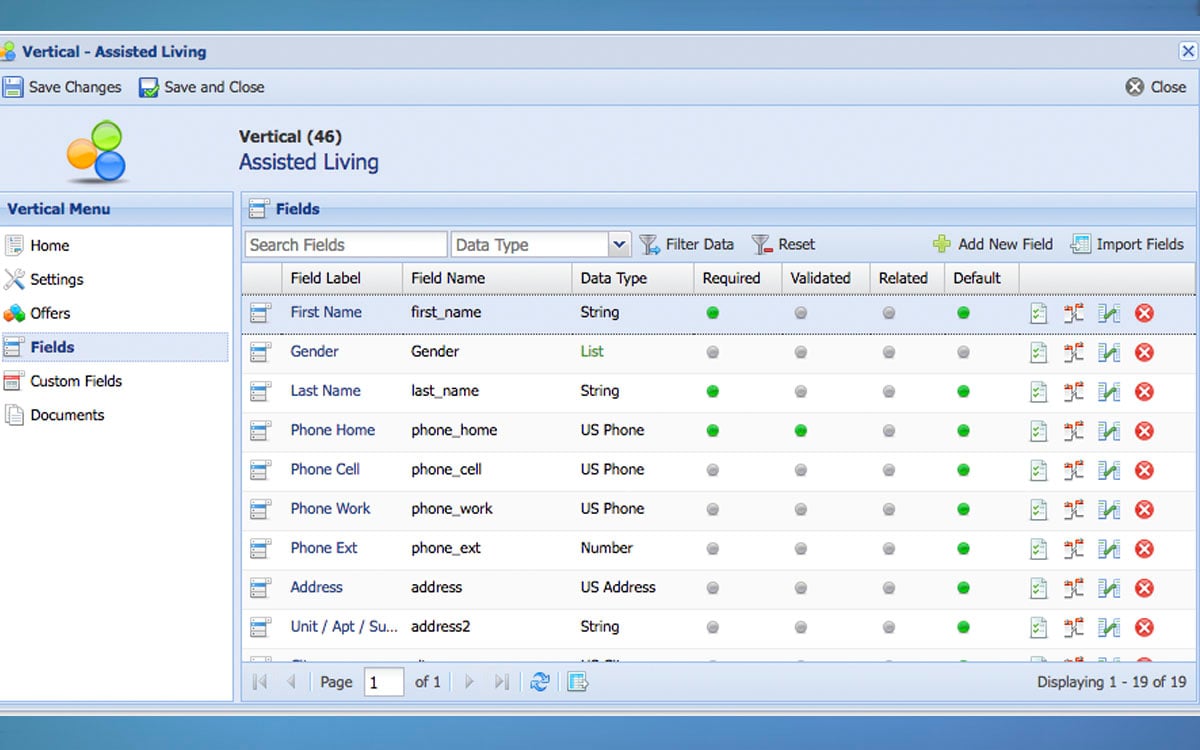 LeadsPedia has call-tracking and routing features with IVR and lead validation.
Leads are verified through duplicate checks, lead validation, and compliance verification. Real-time reports provide data visibility to analyze progress and performance.
Pros: Powerful lead distribution with call routing, flexible delivery methods, affiliate marketing, and billing. High-quality customer service and support.
Cons: LeadsPedia can be cumbersome, reporting is not customizable enough for some users, and the UI is outdated.
Best for: Performance marketers, lead generation companies, and enterprise businesses with marketing affiliates. Companies requiring a comprehensive solution with invoicing and payment in one application.
Trial available: No
"LeadPedia brings Lead Distribution, Call Tracking & Routing, and Affiliate Management all into one unified platform."