7 Trends Where Technology Can Simplify Lead Management
Lead generation is an important component of the consumer journey, it's where they begin to learn about a brand and how it can bring value to their lives.
Lead generation is an important component of the consumer journey because this is where they begin to learn about a brand and how it can bring value to their lives before they decide either to convert or to abandon.
This aspect garners a lot of focus from marketers and businesses are continuously updating their tool stack to accommodate the requirements of high lead generation. Because of this, organizations increased their budgets towards this by 34% in 2018, according to the Demand Generation Benchmark Survey.
That is also understandable because lead generation is an ever-changing field. There are trends that rise and trends that die each year. Below, we discuss 7 of these trends that can affect the way you do your lead management.
1. Increased Segmentation and Hyper-personalization
Segmentation is a simple act of diving leads into different categories according to their demographics, characteristics, interests, and more. Despite that, it can have a great impact on your strategies for managing leads. Most of all, this can affect how you implement your marketing automation. That is because when you have segmented your leads accordingly, you can be sure that certain niches receive the right messages from your brand.
This is something more commonly seen in B2B or B2C email marketing but this can also affect other areas of your operations such as sales and promotions. If you fail to pay attention to segmentation, you may be unable to meet specific needs and to satisfy customers across the board. ClickPoint Software highlights the difference automated lead prioritization plays in helping companies to more efficiently deploy omnichannel prospect outreach efforts like dialing, texting, and email nurture specifically found in lead management software to help sales teams increase their prospect contact rates. Without segmentation efficiencies in the sales follow up process are lost when salespeople are required to manually identify, prioritize, and decide which opportunities have the best chance of turning into a sale.
Moreover, audience segmentation and message or service personalization go hand in hand. Once you have created subdivisions of your target audience, you can begin creating tailored experiences and messages for each niche. This is an important aspect of lead generation strategies because buyer expectations are increasing and becoming more complex. In fact, Salesforce reveals in an article that 76% of customers are looking forward to customer journeys. On top of that, they would rather be treated like another person and not just a notch in the sales quota.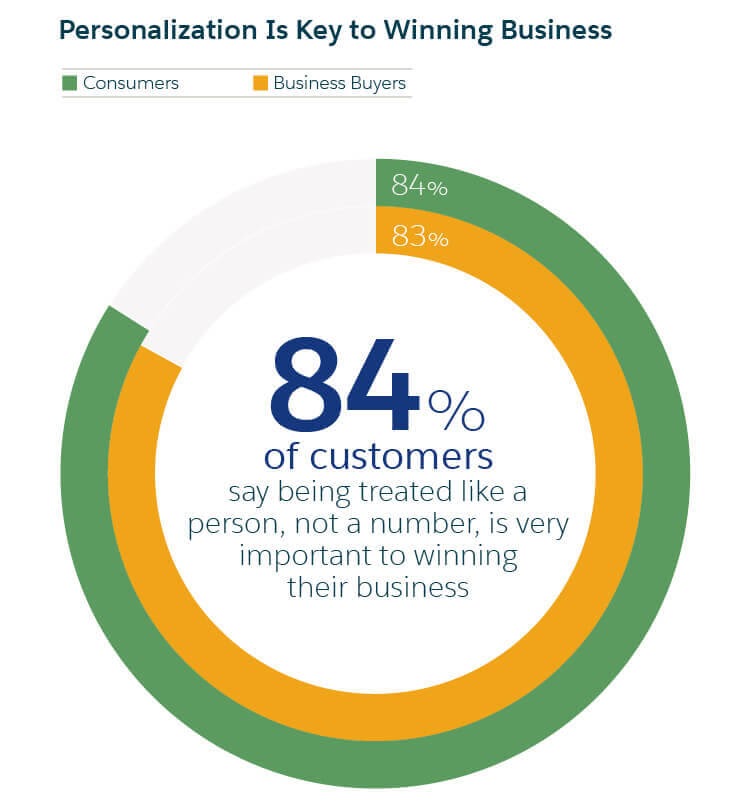 Salesforce reveals that 84% of buyers want to be treated as persons by businesses.
When you connect segmentation and personalization with your lead generation strategies, you can better flesh out your marketing plans and automate them to ensure that you keep your purchasers and prospects connected.
2. Advanced Email Marketing
Email has been a relevant tool for businesses for many years and remains to be a top source for new leads, which is why it remains one of the most important lead generation tools. HubSpot reveals in an article that email still has high CTR, with emails from the arts and entertainment, construction, real estate, business and industrial, and shopping industries leading the pack.
Also, email marketing is a popular approach that is helped by marketing automation technology, especially in lead generation. That is because as soon as a prospect provides you with their email via any of your channels, you can send email messages triggered by the action. As such, you do not have to make them wait for a welcome message and/or coupon.
3. Behavioral Intelligence
Customer behavior is rife with insights that you can include in your lead generation strategies. You can exploit this using behavioral intelligence software, which enables you to observe the way web visitors act on every page of your website. You can see the results in heat maps, click maps, scroll maps, and attention maps.
Despite the richness of data to be gained from behavioral analytics, there are still not a lot of businesses that apply this to their marketing. Stratabeat CEO Tom Shapiro often asks the audience in conferences whether they make use of this tactic and only one to ten percent give positive responses. This trend is increasing, however, and can enhance your lead management process. You may wonder how a customer's behavior on your websites can help you get more leads–when you know where they spend most of their time on your site, you can be ready with forms and the like to get information from them that you can use in your marketing strategies.
4. Influencer Connection
Influencers are social media stars who have a wide audience reach. You can find them on different platforms like YouTube, Instagram, Twitter, and Facebook. They are popular among brands because of their high engagement. Companies actually set aside a huge chunk of their marketing budgets for influencers, from $25,000 to $100,000 per year. According to the report cited by the Influencer Marketing Hub, there are companies who spend upward to $500,000 towards influencer marketing.

Influencer marketing budgets are increasing.
However, measuring ROI remains a challenge for influencer marketing. This is a challenge faced by 78% of marketers surveyed in the abovementioned report. Still, the current set of performance metrics are enough to persuade brands to continue to on partnering with popular content creators.
But how can influencers help with your lead generation? The likes, comments, and shares — these are things that show you of people's interest in the product or service you have that is being promoted by the influencer. You can reach out to these individuals and entice them to provide their contact information so that you can continue your interactions with them outside of the platform you first engaged them in.
5. Smart Digital Assistants
Siri, Alexa, Cortana–these are only a few examples of the myriad smart digital assistants that people use to streamline their days. Aside from reminding users of tasks, calendar events, and directing them towards their destination, these AI-powered assistants can lead them towards your business.
Imagine people asking smart speakers where the best donut shop in town is. It is likely to read the results of a search engine and direct people toward that place. It can work the same way for your products or services, too. As long as you optimize your website and content and make them more conversational, you can rank high in the results page.
When you have done that, you can look forward to feeding new names and contact details to your lead management software.
6. Video Marketing
Globally, YouTube is the most popular platform for 83% of consumers for video content. And 73% want to see entertaining videos on social media sites. Plus, HubSpot also reports that 54% of buyers also want to see more videos from brands.
Adding more content to your video content arsenal could only work for you because consumers check videos before they push through with their purchases. Video marketers even generate more than 60% of qualified leads from videos on an annual basis.
You can also associate your video marketing with your marketing automation. In case you have video content to distribute, you can add it to the system that will post it automatically in the right platforms.
7. Blogging
Posting on blogging platforms is high up on the list of 53% of marketers because it combines lead generation with online branding. Blog posts also garner the most shares online even if they tend to have more than 3,000 words.
Additionally, Optinmonster shares that the average length of a blog article is 1,142 words. The number of posts online within this range is 25% while those between 500-1,000 words make up most of the blogosphere as there is 45.9% of them.
What makes blog articles so interesting for people though? It is likely because they offer plenty of information, making them valuable for consumers. With this insight, it would help if you have informative posts on your blog to attract more readers and leads.
Lead generation and the customer journey
Every sale begins with a lead. And to gain leads, you have to put in place various marketing and lead generation strategies. The process can be tough but when you implement your plans at opportune moments, the return on your investment could be more than adequate. That is why you have to give careful thought to your lead generation and understand who your target audiences really are so you can produce content that can lead them to your doorstep. Then, you can apply other tactics to convert more leads.