5 CAKE Marketing Alternatives
Lead distribution software captures and routes leads, growing your business. CAKE is one option; here are 5 viable alternatives.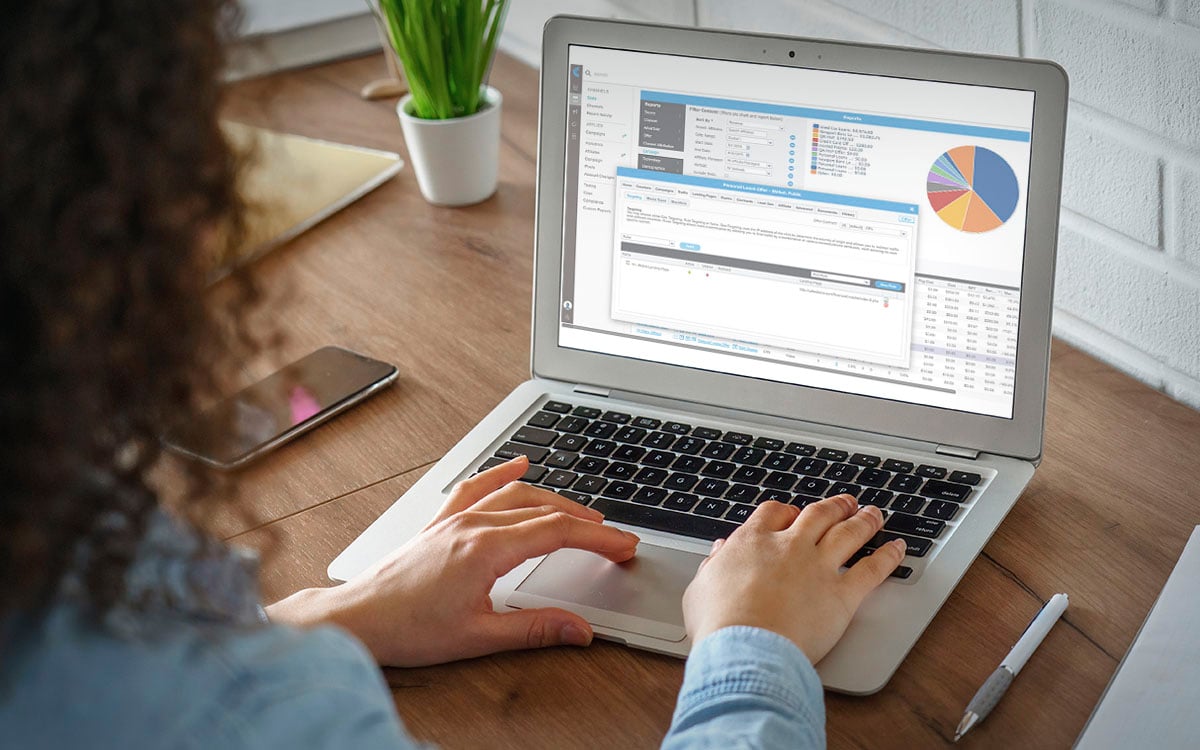 A full-fledged lead distribution platform should allow for multiple lead-generation strategies. Lead sources can include lead capture forms, third-party providers, landing pages, chatbots, and phone calls. The software should be able to distribute leads instantly via multiple channels for maximum flexibility. These channels should include Ping Post, HTTP Post, email, and SMS for delivery.
Lead scoring systems, validation, and compliance features will prevent bad leads from being delivered to sales teams or buyers. Lead delivery types and software integrations should allow leads to flow into lead management platforms, CRMs, or sales engagement software.
CAKE
CAKE makes lead distribution software with features for lead generation, affiliate tracking, and multi-channel marketing. Cake provides insights into lead sources, buyers, and lead quality. This data is used to score and direct leads to buyers in real time.
For affiliate tracking, CAKE allows users to monitor partner marketing programs with the aim of enhancing return on investment. The software also evaluates customer acquisition costs across various marketing channels and compares them with customer lifetime value.
It's worth noting that some users might find CAKE's features and settings overly complex. The process of learning to use the platform effectively can therefore be time-consuming. That said, the software is primarily suitable for large lead-generation companies working with affiliate marketers.
When looking for lead distribution software, your marketing team should also consider these alternatives:
LeadExec
LeadExec is a comprehensive lead distribution system that enhances lead capture, validation, and delivery. It efficiently captures leads from various sources, such as third-party lead providers, landing pages, chatbots, and phone calls.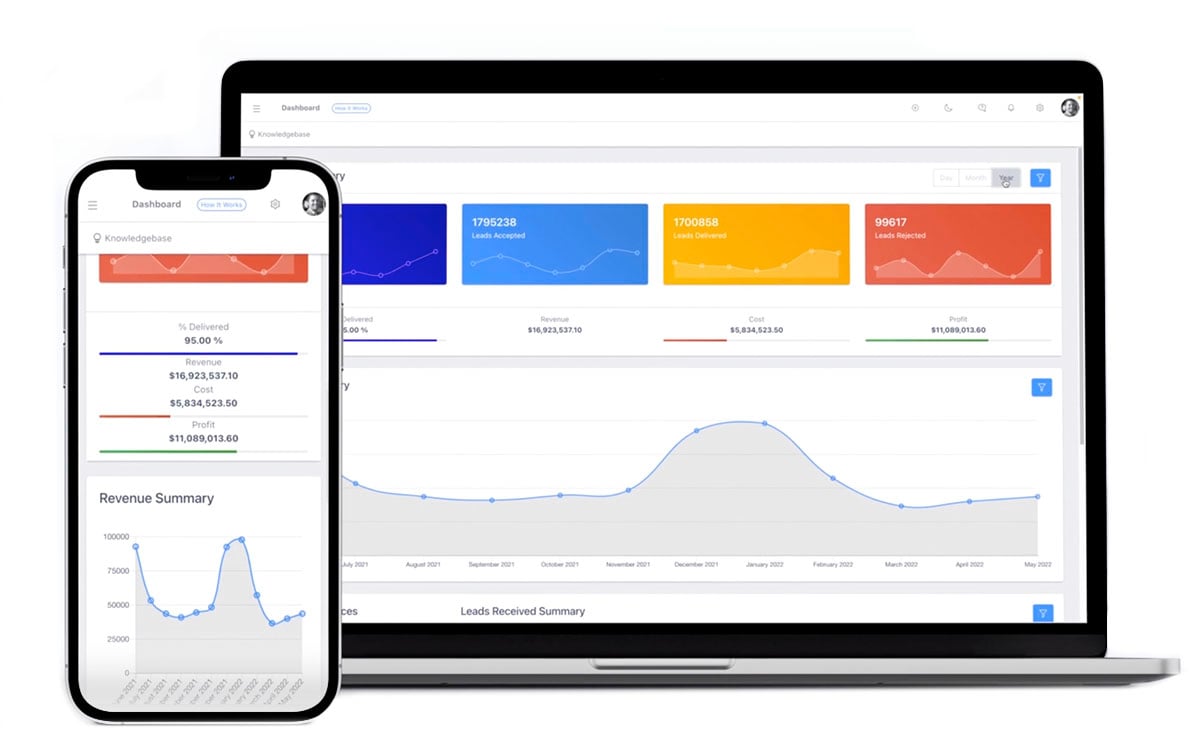 LeadExec emphasizes quality, with a lead qualification process and compliance tools that ensure only the best leads reach your sales team. It validates contact information, discards duplicates, and confirms regulatory compliance.
LeadExec also facilitates the process of lead selling and payments, providing vendor portals for tracking returns and payouts. With integrations with payment gateways like Stripe and Authorize.net, it simplifies payment processing.
Overall, LeadExec is a full-fledged lead distribution system offering all the necessary tools for running a successful lead-gen business.
Key Features of LeadExec:
LeadExec captures leads from any source, including AI chatbots and IVR calls. LeadExec delivers leads to sales teams by Ping Post, HTTP Post, email, and text.
By validating contact details, discarding duplicates, and ensuring compliance, LeadExec upholds a high standard of lead quality.
With payment gateway integrations like Stripe and Authorize.net, it streamlines invoicing and payment management.
Custom reporting allows businesses to monitor campaign performance and track lead value by source, promoting informed decision-making.
LeadExec integrates with data visualization applications like PowerBi and Tableau and landing page providers (like Unbounce, Formstack, and WuFu). This seamlessly links your lead distribution and analysis tools.
While LeadExec's features and capabilities may initially seem complex, its ease of use and powerful features make it a formidable contender.
Boberdoo
Boberdoo's software is tailored to maximize revenue from each lead, catering to organizations of all sizes. It provides real-time lead distribution, multiple distribution logic variations, and unique filtering options for each buyer.
The platform includes a built-in form builder, allowing the creation of custom forms suited to your lead types. Boberdoo's lead verification system, leadQC, ensures each lead's quality before matching with a buyer.
Furthermore, Boberdoo offers tracking and reporting features. These tools give users insights into the performance of their leads and campaigns. The data can help users understand trends, track progress, and make data-driven decisions to optimize their lead distribution strategy.
Key Features of Boberdoo:
Pre-matching quality checks enhance the reliability of inbound leads.
Smart call routing and advanced campaign options provide flexibility in lead distribution.
Dynamic bidding with ping post margins promotes revenue optimization.
Along with the robust set of features, Boberdoo's software comes with a significant learning curve. As it is designed to handle complex and varied distribution logic, users might initially find it challenging to navigate the system. Some users report a dated and cumbersome interface that can be hard to navigate. However, for organizations aiming to maximize lead revenue with advanced lead distribution capabilities, Boberdoo presents a strong solution.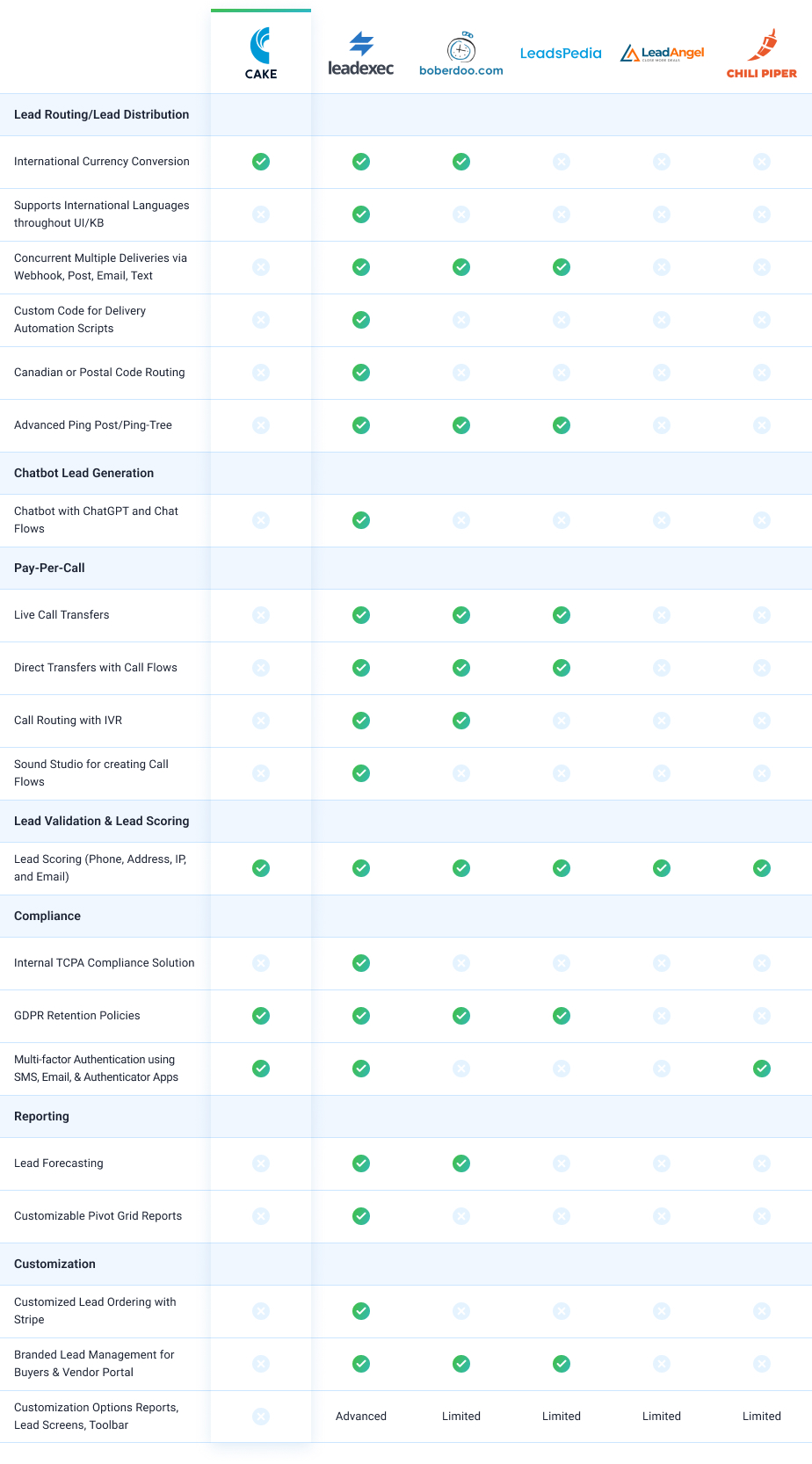 LeadsPedia
LeadsPedia offers a comprehensive platform integrating your business and data, providing tools to analyze your marketing campaigns. Its features include real-time lead distribution, performance measurement, and custom lead validation and verification.
The platform provides a duplicate check feature and lead validation system. LeadsPedia also allows for fraud detection rules and geo-targeting for targeted marketing campaigns.
Further enhancing its capabilities, LeadsPedia offers built-in integrations to various systems. It seamlessly connects with your current CRM, email marketing platform, or other business tools you use, which helps streamline your operations. The platform's integration capabilities can potentially reduce the need for manual data transfer, resulting in time savings and improved accuracy.
Key Features of LeadsPedia:
Real-time lead validation and distribution ensure rapid response and action.
Fraud detection and custom lead validations promote lead quality.
Flexible lead routing based on buyers and affiliates optimizes distribution.
Despite its extensive features, new users may find the platform challenging to navigate due to its complexity. For businesses seeking a platform with robust lead validation, fraud detection, and targeted marketing, LeadsPedia can be a viable option.
LeadAngel
LeadAngel offers a suite of solutions designed to optimize sales operations. Their lead distribution software focuses on routing and distribution, matching with the appropriate sales representatives in a timely manner.
LeadAngel provides advanced lead scoring and segmentation capabilities, helping businesses prioritize leads based on potential value. Additionally, the software supports various CRM platforms, enabling businesses to integrate their existing systems with the LeadAngel platform.
Key Features of LeadAngel:
Advanced data analysis capabilities for improved lead segmentation.
Sophisticated lead matching algorithms for efficient distribution.
Custom reports and dashboards provide in-depth insights.
LeadAngel's complexity may require training to use all of the features. LeadAngel has limited capture channels and lacks calling and IVR capability.

Chili Piper
Chili Piper offers a range of products designed to enhance the efficiency of your sales team. It provides smart lead routing, ensuring leads are matched with sales reps based on skill set, availability, and other factors.
Chili Piper also offers a meeting scheduling tool. It allows prospects to book meetings after completing a web form, reducing the chances of lost leads.
Chili Piper incorporates automated reminders and follow-ups to keep the sales team and prospects on the same page. These automated features ensure no potential sales opportunities are missed due to scheduling errors or communication gaps.
Key Features of Chili Piper:
Efficient scheduling and meeting set-up capabilities.
Seamless integration with Salesforce.
Real-time lead routing for faster conversions.
Provides a smooth scheduling process for enhanced customer experience.
Chili Piper's focus on scheduling and conversion limits its broader lead distribution capabilities. It's also heavily focused on lead delivery to Salesforce and only captures leads from web forms. Chili Piper is probably not the best choice for organizations looking for a fully featured lead distribution system.
Choosing the right lead distribution software is a crucial decision that can significantly impact your business's performance. CAKE offers a comprehensive solution, but different companies have distinct needs. What works best for one might not be ideal for another. Therefore, it's essential to explore alternatives that might better align with your business's specific needs.
Consider your company's unique requirements. What kind of leads are you handling? How complex are your distribution needs?
Do you require real-time routing, or are scheduled batches more appropriate? Are there specific industries or regulatory environments you need to consider? These are all vital questions that can influence which software solution will best meet your needs.
Budget is another critical factor. While it's important to find a solution that meets all your requirements, it also needs to be financially viable. Assess the cost-effectiveness of each option and ensure that the return on investment makes sense for your business.
Lastly, consider the specific features of each software. These might include real-time lead distribution, automated routing, affiliate management, or detailed analytics. Identify the features that will best support your lead distribution efforts and narrow down your options based on these.
Find a solution that meets your current needs and can scale with your business as it grows. Thorough research and consideration of your needs, budget, and desired features will ensure the best decision for your lead distribution efforts.
Looking for a lead management system to complete your sales lead ecosystem? ClickPoint LeadManager offers a complete lead management platform to nurture your leads to closed deals.