What Software Makes Up My Lead Distribution System Technology Stack?
A sophisticated lead distribution system requires a smart technology stack. Building and customizing that stack ensures an efficient, effective lead flow.
There are many software tools to consider when building a start-to-finish lead distribution system. How do you get from generating a lead to making a sale most efficiently?
A one-size-fits-all customer relationship management (CRM) system sounds appealing, but even the biggest CRMs are plump with integrations for a reason. Modern marketers need different types of solutions to complete their toolkit. More specialized applications for every stage of business seem to pop up daily. This can seem daunting, but ultimately, it allows you to customize how your company operates.

Your technology stack (tech stack) is the cumulative system of software applications that serve your business or a component of your business. Think of it as a toolbox.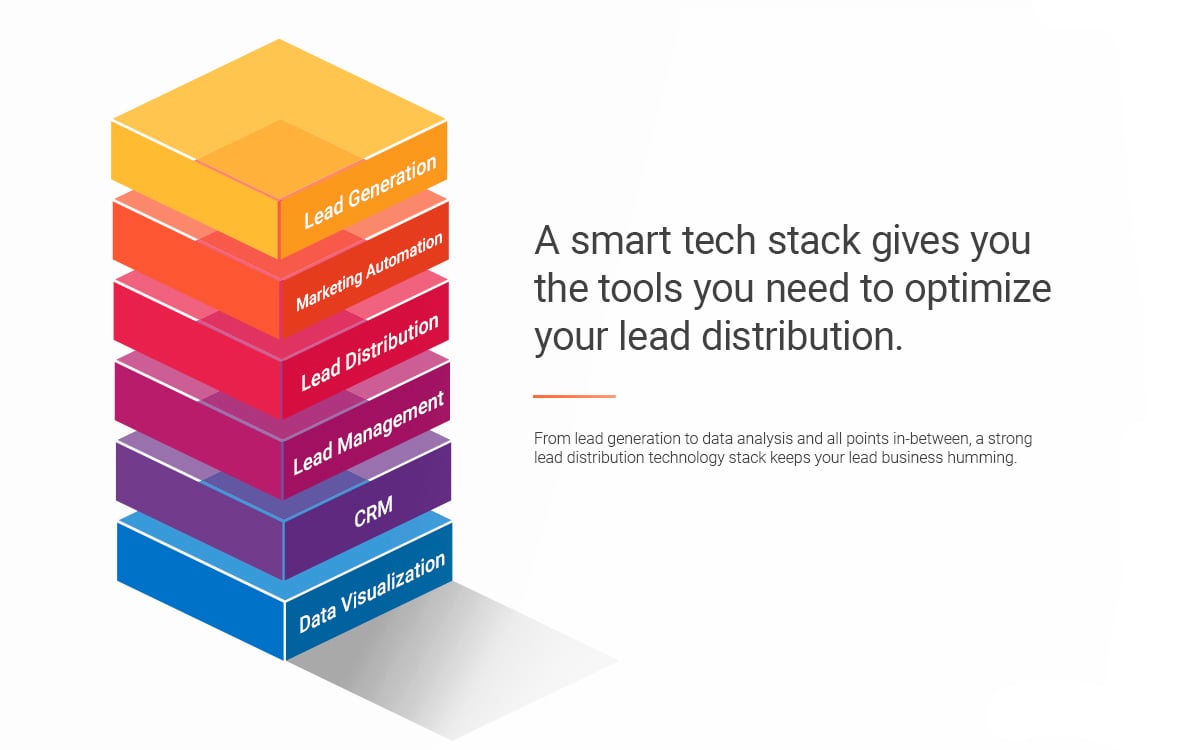 Today's performance marketers require tools that make them more effective at generating, distributing, and managing leads for their buyers or sales teams. A complete technology stack will include:
A complete lead distribution software tech stack might look like this:
Lead Generation
Lead generation software provides marketers with tools to help them generate leads. Landing pages, chat, or phone calls capture lead data. Marketers either use one-off solutions that are very good at specific tasks or marketing automation solutions that have most of these tools available within a single application.
Lead data is then sent to marketing automation for nurturing and qualification, lead distribution, or lead management.
Marketing Automation
A marketing automation solution, often a component of a CRM such as Hubspot or Salesforce will accept incoming leads from various sources, including managed ads, landing pages, emails, or sales software.
Why do I need marketing automation?
Marketing automation helps manage contacts and then segment, score, prioritize, and nurture them. When these leads are deemed marketing qualified, they forward to a sales application. Marketing automation gives you a single tool to manage social media campaigns, email nurture campaigns, your SEO efforts, and even PPC.
Lead Distribution
Comprehensive lead distribution software, like LeadExec, is the heart of a lead distribution technology stack.
Why do I need Lead distribution?
Lead distribution software ingests leads from internal (self-generated) or external (lead provider) sources. It verifies those leads checking for compliance before intelligently routing them to field sales teams or call centers. It can deliver to a lead management application (such as ClickPoint Lead Manager) or a CRM via post, email, text, or live call transfer.
Most importantly a strong lead distribution platform helps generate revenue from leads or moves single leads to multiple locations, buyers, or software solutions. They also act as a lead data repository, where meaningful reports can help drive lead volume, and then data can be fed into more robust reporting solutions like PowerBi. Lead Distribution Software is a way to manage external marketing agencies, affiliates, and third-party lead sources more efficiently than marketing automation software.
Lead Management (Sales Automation)
A solution like ClickPoint Lead Manager accepts the lead data when it's sales-ready and applies intelligent lead routing. Here it is prioritized, routed, tracked, and available for calling, texting, and emailing.
Why do I need Lead Management?
While some companies solely rely on CRMs to close leads, there are many inefficiencies with CRMs that lead management software solves. Lead management is built to handle a large volume of leads, provide segmentation of sales channels, and focus on top-of-funnel activities. This directly helps your team convert more prospects. CRMs typically have rudimentary lead assignment rules, low touch tools, and use third-party solutions for calling prospects. Lead management solutions excel at providing lead prioritization across large, multi-location organizations, and are designed to get hot prospects through a specific sales cadence utilizing email, text, dialing, and chat, all from one simple solution.
CRM
CRM software is generally designed to assist in the prioritization of opportunities and excels at middle-of-funnel to bottom-of-funnel activity and customer service. CRMs are only as good as the marketing automation and lead management applications they integrate with.
Why do I need a CRM?
CRMs are important for the post-contact pipeline. Once you have reached a prospect, a good CRM will help you organize your pipeline, get orders to customers, and track the progress of those orders against your pipeline.
Data Visualization
Understanding the value of leads, how sales teams handle them, and how qualified they are is critical to an organization dealing with a large volume of leads. While most software solutions contain some level of reporting, enterprise businesses need a complete analytical solution. With a solution like PowerBI, Tableau, or DOMO, data is aggregated from marketing automation, lead distribution software, lead management solution, and CRM.
Why do I need a data visualization solution?
While most software contains some level of reporting, enterprise businesses need more comprehensive reports and analytics. A business insights platform like PowerBI combines all data sources and clarifies their meaning. More advanced reporting helps with understanding KPIs like Customer Lifetime Value. Data visualization completes the tech stack by pulling data from all of the other tools and creating a picture of the full customer lifecycle and ROI.
By customizing your tech stack through smart integrations, you make your business technology work for you. A well-thought-out lead distribution tech stack will optimize your lead business for greater efficiency and profit.
Learn more about lead distribution software.