Why an Outbound Call Center is Critical for Your Pest Control Company
Call centers are what the top pest control companies utilize to scale their sales operations. Learn how an outbound call center can evolve your sales.
Why an Outbound Call Center?
ClickPoint Software was born in a pest control call center. Twelve years ago, ClickPoint engaged with one of the largest pest control companies in the US to improve the efficiency of their call center agents. It was evident then, as much as it is now, that call centers are what the top pest control companies utilize to scale their sales operations. The advantage of utilizing a call center for sales, along with your field team, is that you have unique sales disciplines specializing in what they do best, working in tandem. The call center team is highly skilled at handling internet leads and setting appointments for the field sales team or technicians. The field sales team and technicians are best at moving from one appointment to the next, proposing solutions, capturing upsell opportunities, and establishing a relationship with your customers.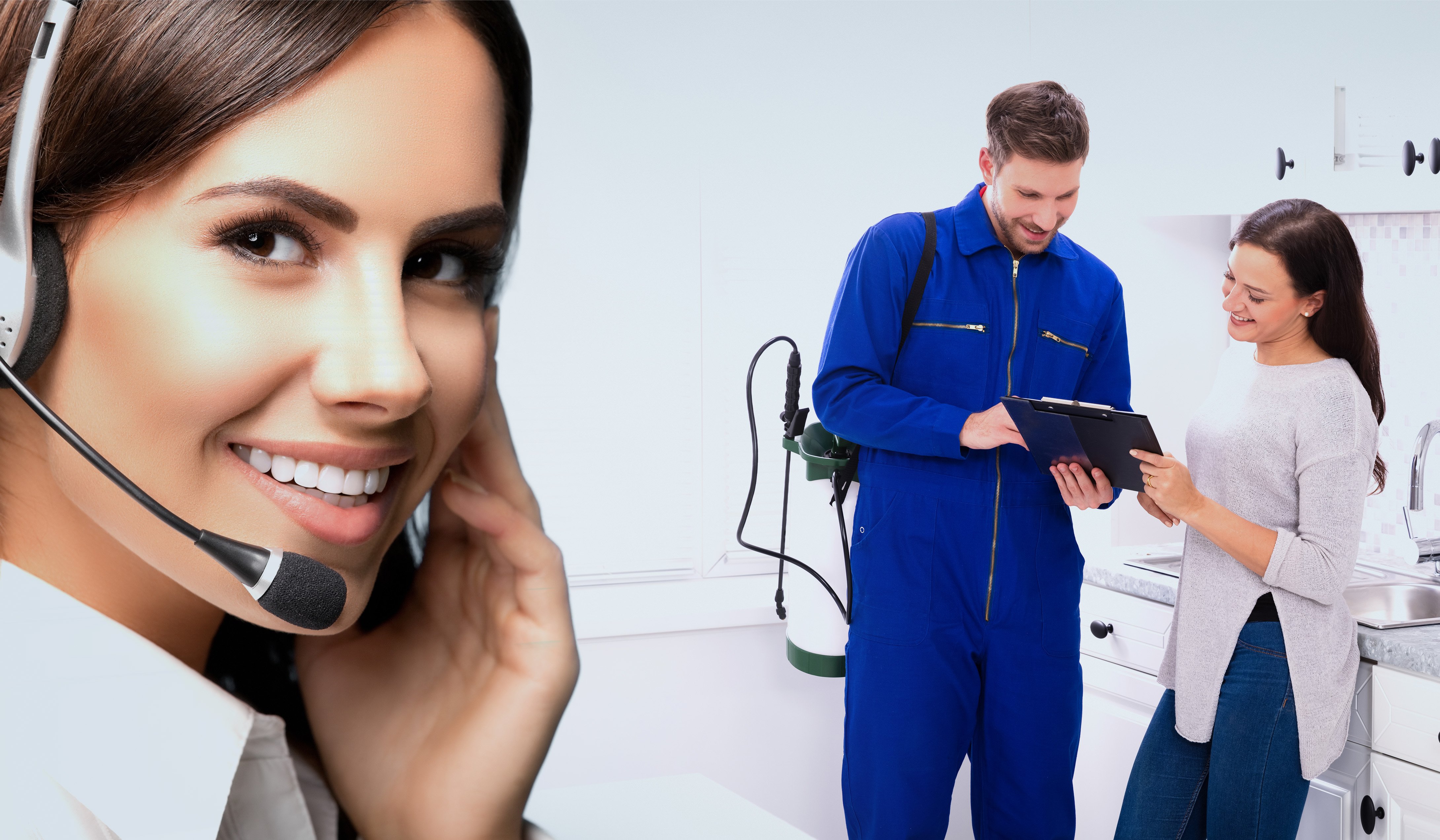 Sales Disciplines are Unique, Segment your Teams to Increase Efficiency and ROI
Consider the implications of having a team of technicians and field agents and providing them with internet leads you purchase or that come from your website or social media. Technicians and field agents train to go on appointments, assess the customer's needs, and provide solutions. As a sales professional in the field, I started my sales career working at ADT, and I know what it entails. It requires driving from appointment to appointment, eating out of your car, working with your current customers for referrals, door knocking and flipping through a Thompson Guide to plan your routes for the day. Field sales and technicians have most likely never trained to work internet leads properly; further, they do not have the resources and tools in their car to follow up with internet leads. Focusing solely on field sales, you miss out on driving the full ROI potential from internet leads your marketing team is working hard to generate.
Internet Leads Require a Sophisticated Follow-up Process
Internet leads need multiple outbound calls over 48 hours, and when an internet lead is purchased or has requested information, your team needs to respond immediately. In the current consumer landscape, buyers are fickle; if they do not directly talk to a representative from your company, they are moving on to your competitor.
Additionally, they may prefer to speak to someone by text, email, or chat; how would a Field Salesperson quickly manage all of these communication methods from their mobile device while driving to their next appointment?
Call Center KPI's That Move the Needle
Contact Time – Under 3 Seconds; if not, you have already lost the battle
Contact Rate – Every internet lead needs to be called 8-10 times in the first 48 hours
Contact Type – Every internet lead should have a combination of calls, emails, and text messages over three days for maximum ROI.
The only way to achieve a 60% or better contact rate is with an outbound call center team that has the tools at their fingertips to follow a strict follow-up cadence.
Suppose your company is not contacting 60% of your internet leads and you can't see how those leads are performing. That puts you at an incredible competitive disadvantage. Take a tip from the national brands; they have experts who have studied the success rate of creating specialized sales teams that focus on what they do best. You do not have to have fifty people in your call center to get started. We have seen groups of five call center team members support large field sales operations and technicians. You can get started with a small team, build it from the ground up, and let your field agents focus on door knocking, referrals, self-generated opportunities, and appointments generated by the call center team.
To learn more about building a high-performance sales team, see my team building blog. To learn more about how ClickPoint helps pest control companies, click here.