Is Outbound Calling an Effective Sales Method in 2023?
In 2023, outbound calling continues to be a valuable sales tool to expand customer bases and increase revenue.


Outbound vs. Inbound
Sales calling has indeed declined over the years due to the increasing popularity of digital marketing and sales techniques. Many companies have shifted their focus from outbound sales calls to inbound marketing. Tactics like search engine optimization, content marketing, and social media advertising have taken priority over more traditional sales methods.
For many companies, sales calls remain critical to their overall sales engagement strategy. These companies continue to evolve their outbound methodology as new technologies and techniques become available.
Research has shown that building solid relationships with customers is crucial for success in sales. This is true regardless of whether the sales process is inbound or outbound. According to research from the Harvard Business Review, companies that prioritize customer relationships outperformed their peers by 85% in sales growth.
Developing an effective outbound calling strategy may require an updated approach. The old school "always be closing" mindset is no longer effective. A holistic approach that uses outbound calling as a touchpoint in a more extensive engagement strategy is required. Outbound calling takes on a new role as a person-to-person engagement to build the customer relationship.
Technology has radically changed how we communicate, but sales calls are still a valuable way to engage customers one-on-one. With the rise of automation and AI, it's essential to understand the benefits of using an evolved outbound calling strategy. Digital marketing is efficient, but sometimes only a human-to-human connection can close the deal.
Here are some key tactics to consider when integrating outbound sales calling into your sales strategy:
Find Your Target Audience
Before making outbound sales calls, it's essential to understand your target audience and their needs. This helps you reach the right people with the right message.
Understand who your ideal customer is, their needs, and how your product or service can meet those needs. If you haven't established actionable marketing personas, you can learn more in our blog: Creating Actionable Buyer Personas from Consumer Profiles.
Once you identify your target audience, you can create a marketing campaign tailored to them and their specific needs. This increases lead value and contact and close rates. You want your prospects to be receptive; if you can't provide them value, you are wasting your time and theirs. Identifying your audience is the first step in lead qualification.
Prepare for the Call
Call prep can seem tedious, but it increases the likelihood of conversion, and that's why you are calling. Before making a call, research the company and/or individual you will speak with. This will give you a better understanding of what they are looking for and how you can help them.
Understanding the customer's needs and pain points is critical for tailoring your pitch to their specific situation.
By preparing in advance and focusing on the customer's needs, you can increase your chances of a successful sales call.
Build Rapport
Building rapport on a sales call is crucial for creating a positive and productive conversation. Start the conversation with a friendly tone, introduce yourself and your company, and let the customer know why you're calling.
Show the customer that you understand their situation and are sensitive to their needs. Look for common interests, experiences, or challenges to connect with the customer. Be yourself and let your personality shine through. Customers are more likely to build a relationship with someone they feel comfortable with.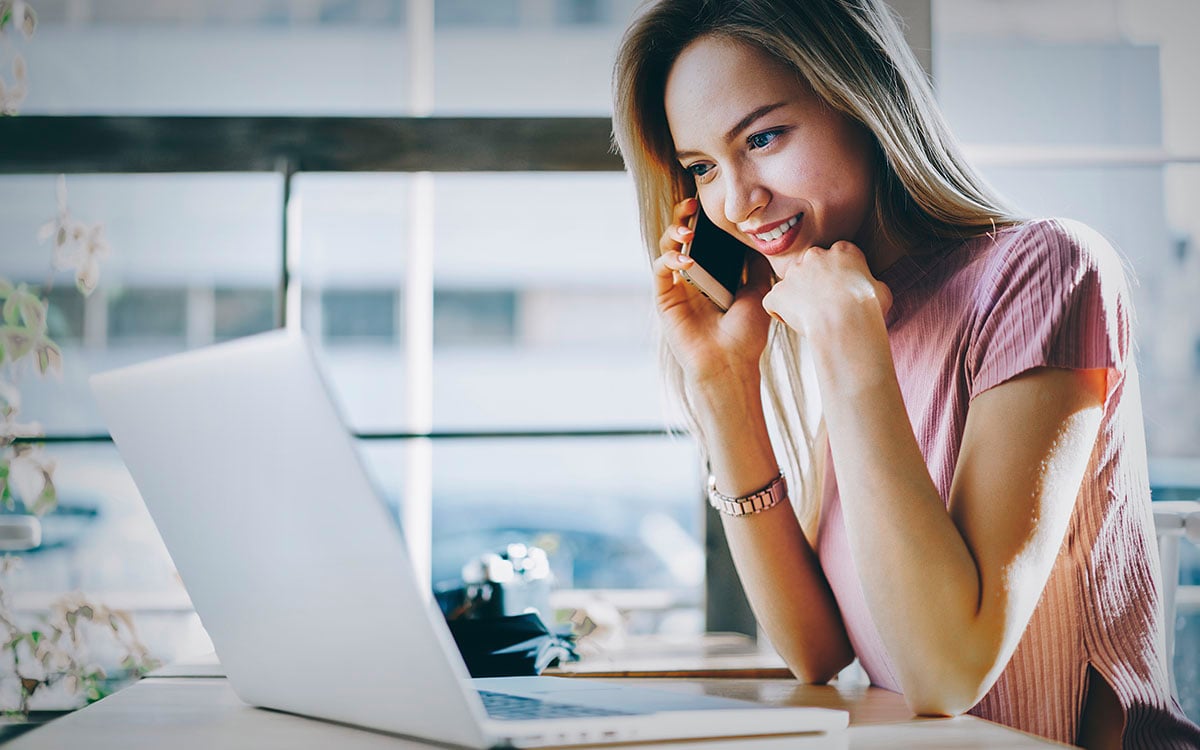 Learn to Listen
Listening to the customer is essential. It's impossible to understand customers' needs and perspectives if you don't listen to them. Listening to and understanding them helps you provide relevant information and solutions.
Top closers only speak about 40% of the time on a sales call, leaving 60% of the talking to the customer. Learn more about slowing down the sales pitch and listening to customers: Teach Your Outbound Sales Team an Inbound Approach.
Provide Value
When making a sales call, it's important to offer value to the customer. This could be information, a demonstration of your product, or a special offer. The goal is to make the customer see the value in your offer and why it's worth considering.
Follow Up
After the call, it's important to follow up with the customer to keep the conversation going.
Cold calling is often a necessary part of an outbound sales strategy and can be challenging for some sales reps. However, by spin selling, sales reps can make the call feel less like a cold call and more like a conversation. Spin selling involves focusing on the customer's needs and providing value rather than just trying to make a sale.
Another key to success in outbound sales calling is developing strong communication skills. Sales reps need to be able to listen to the customer, understand their needs, and present solutions to meet those needs.
Solution Selling, "Challenger Sale," and Conceptual Selling
These sales models can help sales reps effectively communicate with customers and close deals.
Solution selling is a sales approach focusing on finding and offering solutions to customer needs or problems. It involves understanding the customer's situation, identifying their pain points, and presenting a practical, actionable solution.
This approach helps the salesperson build a relationship with the customer. It provides real value rather than simply trying to sell a product or service. Solution selling addresses a customer's unique needs leading to a sale that benefits both the customer and the salesperson.
Challenger sale is a sales approach that challenges customers' assumptions and beliefs about possible solutions to their problems. This involves educating the customer and guiding them toward a better solution they may not have considered.
The challenger sale helps customers see the value of the product being offered. It allows the consumer to make a decision in their best interest. This requires call center agents to be highly knowledgeable about the product they sell and truly understand the prospect's needs.
The challenger sale emphasizes a consultation approach to selling. The sales representative acts as a trusted advisor and helps customers make informed decisions.
Conceptual selling focuses on selling an idea or concept to the customer rather than just a product or service. Help the prospect see the bigger picture and understand how you benefit their business in the long term. Conceptual selling requires sales reps to think creatively and understand the customer's business and goals.
Sales agents need to listen and understand the customer's needs and present complex ideas in a simple and direct way. Conceptual selling is especially effective in complex sales environments where customers seek more holistic solutions.
Marketing strategies play a significant role in outbound sales success. Combining outbound sales calling with other marketing tactics, such as inbound selling, creates a comprehensive sales process to reach your goals. The sales cycle is shorter, and deals are closed more quickly when sales teams combine inbound and outbound selling methods.
In conclusion, outbound sales calling continues to be an important component of many companies' sales strategies in 2023.
The most effective sales strategies will depend on the needs and goals of both your business and your target customers.
Find your target audience and use sales calls to complement your other marketing strategies. You'll close deals, increase revenue, and reach your business goals. Communication skills and a focus on providing value to customers are critical to success in outbound sales calling.
Learn how lead management software streamlines your outbound sales process.